CLC foam concrete machine for sale
2020-01-09 18:11:23
CLC foam concrete machine for sale

As a new type of material, the foam concrete brick produced by CLC foam concrete brick machine for sale has thermal insulation and heat resistance, and has the functions of waterproofing and fireproofing. Because of its simple construction and good thermal insulation performance, it is widely used in engineering projects as an alternative to existing thermal insulation materials. The basic principle is to use the closed pores in CLC foam concrete brick to achieve thermal insulation.
How to make the best quality CLC foam concrete bricks with a CLC foam cement brick machine? As a supplier of CLC foam cement brick machines, we can give you a brief introduction to the working principle of CLC foam concrete bricks made of CLC foam concrete bricks:

First, let me show you the components of the CLC foam concrete brick machine for sale. It includes feed systems, foaming systems, mixing systems and pumping systems. For the feed system of the CLC foam brick machine, we designed a conveyor to transport raw materials such as cement, sand, fly ash, slag and so on. We have designed two types of conveyors: screw conveyors and belt conveyors. A screw conveyor with a dust cover reduces dust during the feed. Regarding the foam system of foam concrete brick machines, we have designed a high-tech foam generator that can automatically produce rich foam. In the foam generator, there is an air compressor to provide sufficient air to introduce air into the blowing agent solution to produce a large amount of foam.
CLC foam concrete brick machine for sale have certain requirements for foam in the production of CLC foam concrete bricks, because the density of foam also has a certain impact on foam concrete. The first one is that the higher the stability of the foam, the better, and the longer the foaming time, the better, so that the mechanical strength can be maintained for a long time. The second is that the more uniform the bubble, the better the bubble diameter. The uniformity here refers to a uniform distribution, and the second refers to the uniform size of the foam. The third is that the smaller the diameter of the bubble, the better, it should be 0.1 to 1 mm, because the smaller the diameter of the bubble, the greater the strength of the concrete. The fourth is that the lower the bubble bleed rate, the better.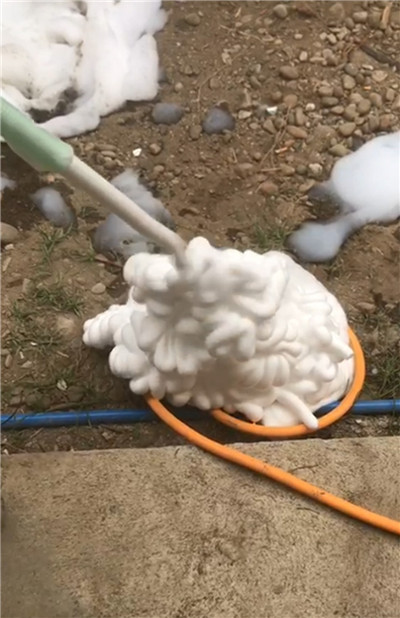 For the mixing system of the CLC foam concrete brick machine for sale, we use a common mixer to stir the slurry and use a static mixer to stir the foam and slurry to ensure the good performance of the final foam concrete product. Regarding the pumping system of the foam concrete brick machine, we use a hose pump to pump the fluid foam concrete, which will hardly damage the foam concrete. Compared with screw pumps and piston pumps, hose pumps are the best pump for conveying foam concrete.