Automatic mortar spraying machine
2018-12-06 09:21:07
N2 mortar machine is a fully automatic gypsum-based mortar, pre-mixed dry mortar pumping and spraying equipment that our company applies modern technology. It has automatic feeding, metering water supply, remote control, integrated stirring, pumping and spraying functions.
The automatic mortar spraying machine pressure sensor is integrated and controlled. It is a fully automatic uninterrupted and continuous working mortar spraying construction machine. Also known as mud wall machine, powder wall machine, sand blasting machine, plastering machine, cement wall spraying machine, cement spray machine, gypsum mortar spraying machine, gypsum powder spray machine.
The work performance is stable, the mixed slurry is uniform, and the effect is excellent. Dry and wet zone separation, modular design, compact structure, easy operation, simple maintenance and cleaning, light weight, small size, easy to move, is the ideal equipment for premixed dry automatic mortar spraying machine construction.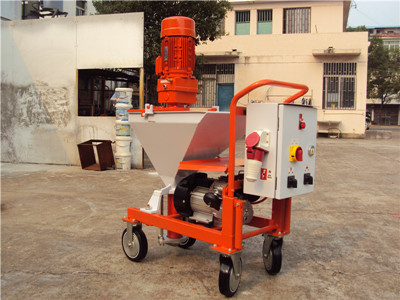 GD-N2 automatic mortar spraying machine is a small-size, wet-mixed mortar transfer pump, which is suitable for materials less than 3mm, such as mortar that can be pumped, putty, paint, coating materials and things alike. GD-N2 can be your spraying machine if it is equipped with our small-size air compressor, spray gun or relative accessories.
GD-N2 is composed of many independent components. The volume and handy design facilitate the transportation of the machine. It is suitable for premixed dry powder mortar mixed with water, such as gypsum-based mortar, cement-based mortar, insulating polymer mortar, self-leveling mortar and the like.
An important feature of N2 is that the agitator shaft with special structure and high wear resistance is the international leader. The frame is made of steel and the machine is sturdy and durable.
Automatic mortar spraying machine application is suitable for three-phase voltage supply conditions. The machine is light and can be moved manually at will. If you want to know more about this machine, please contact us without hesitation. We will give you feedback at the first time.