The application and features of Gaodetec membrane filter press
2018-03-14 17:34:01
The chamber filter press or membrane filter press serves to the filtration of solid-containing liquids, dewatering of trub or sludge or washing of the filter cake. Particularly good results are achieved by means of membrane plates which can, with compressed air from the inside, exert an additional pressure on the filter cake. The chamber filter press is generally used in the beverage and food industry and filters gently, for example, juice and wine.
Standard designs of our chamber membrane filter press:
1. Cantilever filter frame made of stainless steel;
2. Optional equipment with membrane or chamber plates made of PP;
3. Complete with hose or piston pump for feeding;
4. Dry running protection and electrical switch automatic;
5. Pressure compensation containers and required fittings;
6. Manual or electrohydraulic pressing;
7. For membrane plates, with compressed air connection.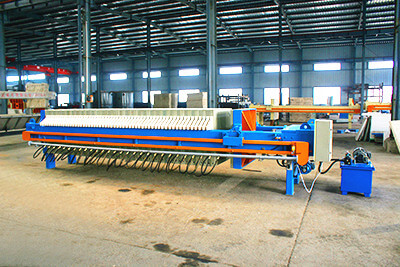 Filter elements:
We construct for you the optimal press as required for the laboratory, technical school, production and operation.
1. The filter plate has an O-ring edge seal, the filter pack seals hermetically so that a drip tray is not required.
2. The filter cloths are attached within the plate; the rubberised edge, usual for pass-through cloths, is omitted.
3. The filter remains outside clean and aseptic.
4. Membrane plates ensure a 50 per cent time saving and a higher yield of the liquid in the filter cake.