Double Acting Or Single Acting Electric Hydraulic Oil Pump
2019-02-03

The features electric hydraulic pump:
1. Spray coating surface, strong anti-corrosion and anti-pollution ability;
2. Lightweight and compact design, the whole machine is light and easy to transport;
3. Two-stage pump design, low pressure and large flow, fast movement of actuators under no-load, automatic switching between high and low pressure;
4. High pressure and large flow, suitable for large tonnage jacks;
5. An adjustable pressure valve is standard, which facilitates recalibration of working pressure and prevents pressure overload;
6. Standard motor starter with overload and leakage protection;
7. Durable directional control valve for single-acting and double-acting jacks, with electromagnetic reversing valve for remote operation;
8. PLC control optional.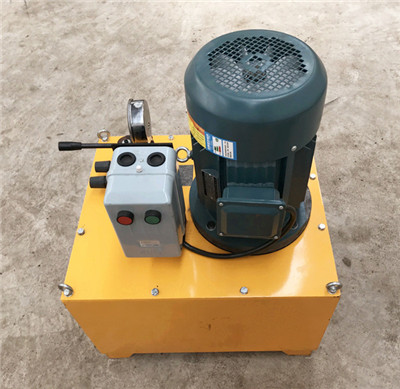 This double acting electric oil pump is suitable for a variety of industrial production applications, and hydraulic oil pump can also be directly equipped with corresponding equipment for pushing, pulling, expanding, clamping, bending, jacking, extrusion, etc., especially suitable as a power source for the production line.



Aluminum electric hydraulic pump station features:
ABB aluminum motor high-performance motor is easy to dissipate heat, can be used for a long time, and fully reaches the industrial level;
Adopting German technology and the original main components of Harvey, Germany;
Different valve block configurations are used to form single-acting double-acting, manual control solenoid valve control and other options;
Various sizes of fuel tanks (10-200 liters) can be customized to meet the customer's various hydraulic equipment oil requirements.