Construction conditions and technology of foam concrete
2018-09-27
Construction Conditions of Foam Concrete
Concrete produced by foam concrete manufacturers also has certain conditions during construction, because these conditions also have a great impact on the quality of construction.
The first is to clean the roof. There must be no wood, steel, bricks, etc., because these impurities have a great impact on the construction. The second is that the wall should be built, and the water outlet should be placed before it can be used. Use large site equipment such as elevators or tower cranes to transport materials, but pay attention to safety during transportation.
There should be sufficient water, electricity, etc., and the foam concrete machine cannot be operated in bad weather. During the construction, the construction shall be carried out in accordance with the corresponding construction requirements and relevant technical approval forms.
The construction conditions of foam concrete have a great influence on the quality. We must use it according to the corresponding requirements when using it.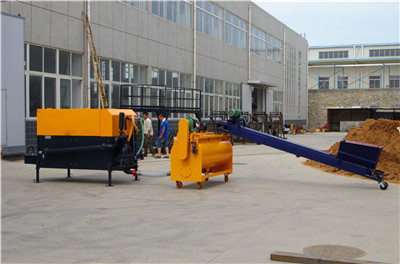 Construction Technology of Foam Concrete
When you use the concrete produced by we foam concrete manufacturers, you need a certain construction process. A good construction process can promote the improvement of engineering quality.
The first is the cleaning of the base layer. The hard block that is loosened on the base layer and protrudes from the surface of the base layer is removed, and the floating dust is cleaned. Then, the tube root is blocked and fixed to ensure the safety and firmness of the use process. We also need to set roof vents. In addition, there is a separate seam setting, which is more convenient for construction. The next step is to stir and stir well before pouring. Add water first, then add concrete. After mixing, you can carry out the construction.
The construction of foam concrete pump machine is generally divided into these steps. It must be carried out in accordance with the relevant steps during construction, otherwise the quality cannot be guaranteed.
And if you want to produce the foam concrete blocks, as the foam concrete machine manufacturer we can provide the foam concrete machines and foam concrete blocks moulds.