Triple e fluid jet grouting (Soilcrete T) system
2018-07-30 19:20:21
Jet grouting is a highly specialized technique used to create an in situ mass of improved soil also called soil-cement. Jet grouting improves soil mechanical and permeability properties by using high-speed jets of water/cement mixtures injection treatment.

Jet grouting machine produced by us are quite mature. Jet grouting techniques can be classified as the single system (utilizing grout only), the double system (grout and air) or triple system (grout, water, and air). It is traditional jet grouting system. Each system has unique advantages and selection of the jet grouting system is dependent upon project+specific criteria.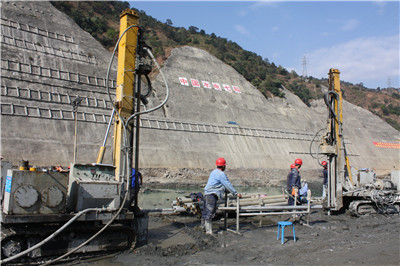 The jet grouting technique allows improving a wide range of soil types. Different working condition requests different silo-cement diameter. Sometimes the request diameter may reach to 800mm. The 3 fluids jet grouting will occur and happen. As it is based on soil erosion, and soil credibility is crucial to the final result. The more consistent the soil to be treated, the smaller the column diameter is. Therefore, larger columns can be obtained in loose soft soils and smaller ones in cohesive soils.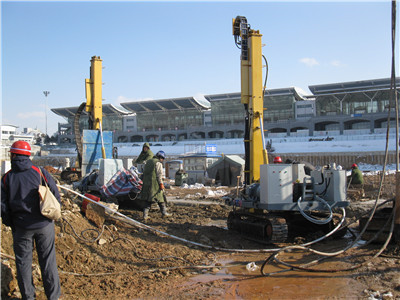 For 3 fluids jet grouting system, grout slurry, air, and water are pumped through different lines to the monitor. High-velocity coaxial air and water form the erosion medium. Grout slurry emerges at a lower velocity from separate nozzles below the erosion jet. Soilcrete column diameters are about 800mm to1000mm. Triple fluid jet grouting is the most effective system for cohesive soils.



As for the jet grouting equipment used, it including the XL-50 jet grouting drilling rig, XPB-90 series high pressure grouting pump, Mud mixer and mud agitator; BW250 mud pump, air compressor and matched 3 fluids drilling tools.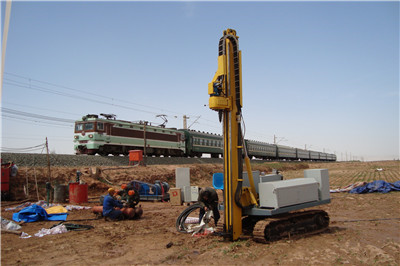 XL-50C crawler type jet grouting rig adopts advanced direct-acting load feedback fine-adjustable variable hydraulic system. It is equipped with accurate drilling tower verticality, power head rotation speed and lifting speed display. It can complete a variety of rotary spray construction. It Suitable for jet grouting construction of railways, highways, bridges, dam foundations and various industrial and civil buildings. (Single and double pipe rotating speed is about 20 r/min, three pipes are about 10 r/min, and the torque is about 1000. ~2000 Nm);



High pressure jet grout pump, it can be applied to ground treatment and stabilization of railway, highway, bridge, dam, industrial and civil buildings, also used in geological disaster control. Flow is 0-114L/min and max. pressure is 50Mpa. Powerful for the matched jet grouting machine.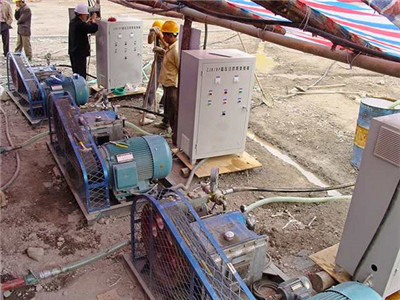 Mud Mixer with volume 1200L can be used in geological drilling mud mixing work, and also can be used as cement mud mixer. Mud agitator is slow mixing ensure no sediment during the grouting.



BW250 mud pump is also used for this triple e fluid jet grouting system. It is used for cement slurry grouting. Durable and long life working time. Matched air compressor 7.6m3/h and pressure 6bar will suitable for the jet grouting system.



As the professional jet grouting supplier, we manufacture many jet grouting equipment, ensure the best performance and reliability in the industry. From job start up to the installation of the last jet grout column, quality jet grouting machine (drilling rig, high pressure grout pump, mud mixer) is supplied. Gaode Equipment is committed to provide the most economical solution that satisfies the technical requirement of each project.

For more information about Triple e fluid jet grouting (Soilcrete T) system, please email us: info@gaodetec.com