Special urban road markings equipment
2018-07-17 16:13:32
Urban road markings are mainly applied to the road surface, subjected to sun and rain, frozen snow, and subjected to impact wear of vehicles, so there are strict requirements on their performance. Firstly, it requires short drying time and simple operation to reduce traffic interference. Secondly, it requires strong reflection ability, bright color and strong reflection, so that it has good visibility during day and night. It should have anti-slip and wear resistance to ensure driving. Safety and longevity.

Hydraulic double-cylinder thermoplastic kettle is one of the main equipments for thermoplastic marking construction. The equipment has the characteristics of high melt efficiency, long continuous working time, simple operation and convenient maintenance.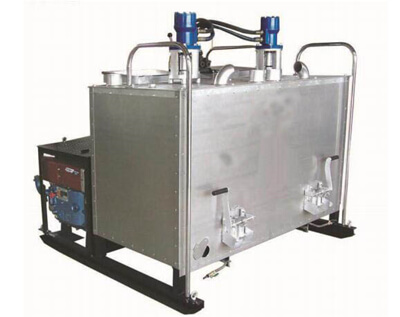 Hydraulic double-cylinder thermoplastic kettle
Product feature:
★ The equipment adopts multi-channel integrated hydraulic transmission with stepless variable speed and strong torque;
★ High-performance large-load operation, forward and reverse cooperation, to ensure that the paint can be fully stirred evenly;
★ Stainless steel direct injection furnace with high-efficiency energy-saving burner to ensure high combustion efficiency and energy saving during holidays;
★ Specially designed overload overflow device to prevent misoperation;

The thermoplastic road marking machine is the key equipment for the construction of hot melt marking line. It is used together with the hydraulic double-cylinder thermoplastic kettle to complete the marking line construction. The device is designed to be lightweight, portable, easy to operate, and easy to maintain.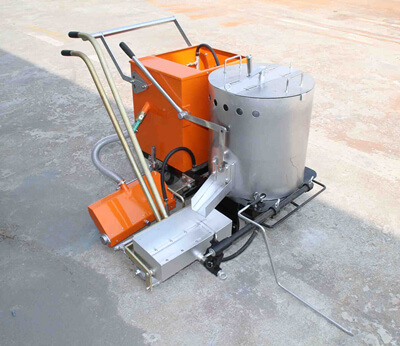 Thermoplastic road marking machine
Product feature:
★ Using specially manufactured high-precision integrated cast iron shoes bucket, ensuring that all shoes are flush, uniform, uniform thickness and beautiful in line shape;
★ Heat-resistant rubber special cast iron wheels, long-term use;
★ Glass bead synchronous clutch spreader, which spreads more evenly than the commercially available adjustable spreader;
★ Road marking machine can be linked with vehicle booster, which can greatly improve the construction efficiency of high-speed marking lines;
More detailed product information, please check the below working video link:
https://youtu.be/t26_Eqg0kZM