Shotcrete machine with robotic arm for secondary lining of a tunnel
2018-03-02 17:26:25
Gaodetec HSC-3016 shotcrete machine with robotic arm was used for secondary lining of a tunnel.
The shotcrete machine with robotic arm has following advantages:
1. Closed circuit hydraulic system running system, powerful chassis, wet mix braking system.
2. Four-wheel transmission, four-wheel steering, small turning radius, thus make a better operation.
3. Open-type cab, widely views, driver's seat with 180 º rotation design, thus make the operation flexible and can drive two-way.
4. Reasonable loading design makes the equipment with bigger anti-overturning moment.
5. Full hydraulic telescope and rotate robot arm make the machine with high carrying capability, steady movement, flexible operation, no construction dead zone.
6. Electric motor and diesel two-motor drive.
7. Diesel engine can make the spray arms move slowly in case the concrete solidification makes the equipment crash when electric power is off.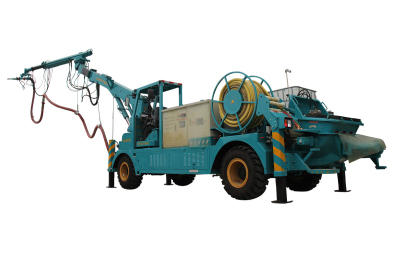 Please check the photo of shotcrete machine with robotic arm for tunnel for more information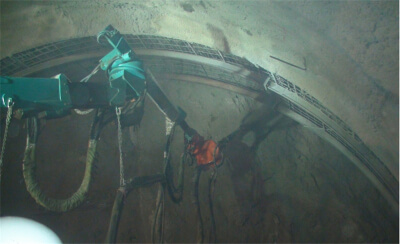 Please contact info@gaodetec.com +86-15903613994 for more information, please without any hesitation. Gaodetec has its own technical team, could offer you suitable type and best price according to your demands. So contact us for more information of shotcrete machine with robotic arm now!!!