Screw type plaster machine for sale
2018-08-16 10:42:22
GMP3 is a screw type plaster machine, equipped with small air compressor. It is suitable for pumping or spraying the wet ready-mixed cement mortar, etc. This machine permits the easy and comfortable transport due to its small and handy dimensions and low weight. To have a perfect mortar spraying, the diameter of the sand shall not be too big. The max. sand size is 3mm. And, the cement/sand ratio shall be ≥ 1:3. The screw type plaster pump is with two powers to choose, one is electric motor version, the other is diesel engine version. For electric power, the voltage can be made 380V or 220V.


Unique future of
screw type plaster machine:
1. Small and handy dimension and low weight, quickly and easily transport even in the most confined spaces.
2. The high quality rotor/stator pump ensures the material is pumped and sprayed out continuously and evenly.
3. The machine always works with efficiency and silence.
4. With air valve remote-control function.
5. The machine consists of portable units, permitting easy to operate and take maintenance and easy to use in any circumstance.
6. The machine equip with air compressor, spraying very fluid.
7. Cement mortar plastering screw pump feeding continuous, no pulse phenomenon.
8. Gun and nozzle connection can be optional direction, easy to operate.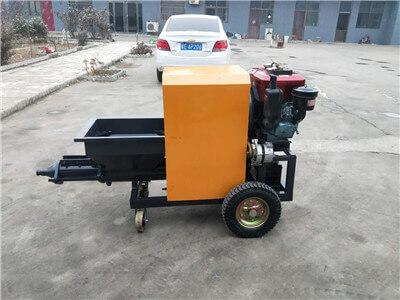 Screw plaster machine
is suitable for pumping and spraying the wet ready mixed mortar which is pumpable, such as putty powder, paint, latex paint, real stone paint, cement mortar, dry mortar, insulation mortar, waterproof materials, fireproof materials, insulation materials, sound-absorbing materials such as water-soluble materials. If you want to know about more information about our screw type plaster pump, please contact us freely. Thanks for your attention.