China BW series water well drilling mud pump
2019-02-21 09:30:02
Mud pump is widely used during drilling projects, such as NQ and HQ drilling projects, core drilling, jet grouting drilling, geographical and geothermal drilling, and water well drilling projects. Mud pump for water well BW series mud pumps are economically mud pump for the drilling projects.
Water flow is the most critical part of drilling a well. Water well mud pump for sale with different capacity, from 80L/min up to 2000L/min. And for the water well, mainly use output 850L/min, and pressure 2Mpa. Big output suitable for big diameter and depth drill holes. BW850/2 drilling mud pump is a horizontal reciprocating dual cylinder, double acting piston type pump. It is used for pressing washing liquid (mud or water) into the drilling well when the geological drilling performs and is adaptable to the 200-600 m water well drilling rig.



If you are in the water well drilling drilling industry, the need for a durable and affordable drilling mud pump for pumping drilling mud and grout for wells is one of the most important pieces of equipment on your mobile drill rig. For the drilling mud pump, we have three type of power are provided. Electric motor drilling mud pump, diesel engine mud pump, and the hydraulic motor mud pump. For the hydraulic motor BW series mud pump, the pump flow and pressure could be adjustable.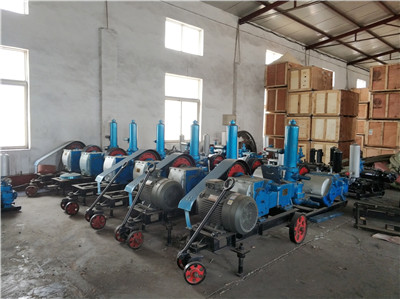 Gaodetec is the professional China mud pump supplier. And most of the mud pumps are in stock. So could ensure fast delivery for drilling mud pump. While if you just want to order some parts for your mud pump, it will be better to show us the parts size firstly for checking. If size are same, we will be glad to assist you about the mud pump parts. If the size is different, we still suggest that you order from the original suppliers for the best match. As you see, parts are important, any small difference, it could not be used. For more information about the China BW series water well drilling mud pump, please email us: info@gaodetec.com