Mining construction robotic shotcrete machine
2018-03-05 17:32:35
Gaodetec HSC-2008 and HSC2513 robotic shotcrete machine are very popular in mining construction.
If you want one mining construction robotic shotcrete machine, please contact info@gaodetec.com +86-15903613994 for more information and without any hesitation.
Gaodetec HSC-2008 robotic shotcrete machine's dimension size is length x Width x Height=7100x2150x2700, so it could be used in min. mine section Width x Height=3x3m
And robotic shotcrete machine spraying range as below: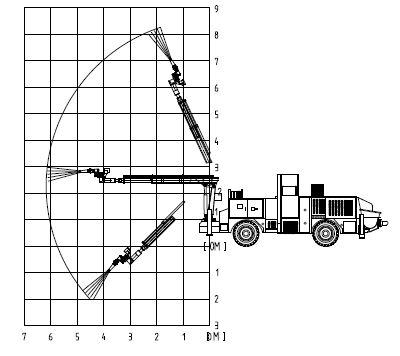 And the robotic shotcrete machine has the following advantages:
1. The Arm structure could pitch up down and rotation;
2. The spraying nozzle could 3600 rotation, 2400 swing;
3. Regards the Chassis of the sprayer system, it with4 cylinders engine, hydraulic transmission, stepless speed change , more stronger gradeability, 4 wheels, Axle bearing capacity more stronger, Hydraulic steering, more easier to driving;
4. The sprayer system with intelligent controller imported from Germany IFM;
5. Regards the remote-control unit, we use famous brand, Sany remote control, it with good quality;
6. For the additive system, we use hose type dosing pump, it more stabilization.
So in a word, our the robotic shotcrete machine with more stronger reliability, it is one competitive advantage product.
And please check the video link of the robotic shotcrete machine for more information.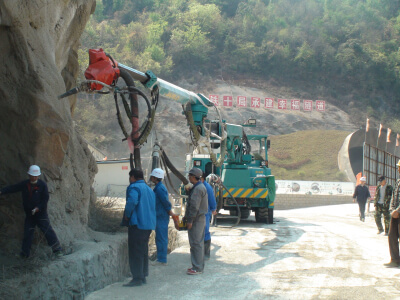 How do you think of the robotic shotcrete machine? Gaodetec has its own technical team and research and development ability, has tens types robotic shotcrete machine for sale. So please contact us for more information of robotic shotcrete machine for your mine business now!!!