Large capacity refractory pan mixer
2021-04-13 17:50:05
Large capacity refractory pan mixer
Compared with the traditional mixer, the large capacity refractory pan mixer has a wear-resistant upgrade treatment. The related parts are cured and the abrasion-resistant strengthened process, which not only ensures the user's cost reduction, but also prolongs the durability and service life of the equipment; Rotation speed and variable speed processing methods give full play to the capabilities of the equipment. The large capacity pan mixer is easy to move, the mixing speed is fast and the homogeneity is high, the structure design is compact, the feeding height is comfortable, and the large refractory mixer has high mixing efficiency and low maintenance cost.
1. Suitable for on-site construction on construction sites and refilling of refractory castables, etc.
2. Fast mixing speed, high homogeneity, common mixing materials such as mortar, concrete, refractory materials, etc.
3. The large refractory pan mixer design is simple and generous, the structure is compact, the internal cleaning is simple, and it is convenient to move.
4. With bag breaking device, the feeding height is comfortable and convenient to use.
5. The inner liner is attached to prevent the mixing material from wearing the cylinder, and the liner can be replaced for continued use, with low maintenance cost and long life.
When choosing the large capacity refractory pan mixer, we should be clear about our needs, so that we can buy a cost-effective machine.
When we can buy it, we generally clarify our needs in the following points:


1. The difference between mixer materials
For a variety of equipment such as large refractory mixer, choosing the one that suits you is undoubtedly a big problem. Therefore, when choosing a refractory mixer with a disc mixer, the first thing we must confirm is the mixer material, and narrow the range according to the mixing material.
2. The speed of the large capacity refractory pan mixer
The second thing is to look at the mixing speed of the refractory mixer. The high mixing speed will naturally increase the production efficiency, and the slow mixing speed will naturally affect the construction speed.


3. Differentiating mixing machines
The large capacity refractory pan mixer and its accessories will have corners that cannot be touched, commonly known as dead corners, so choosing a small percentage of the dead corners of the mixer will greatly improve the production efficiency of the equipment.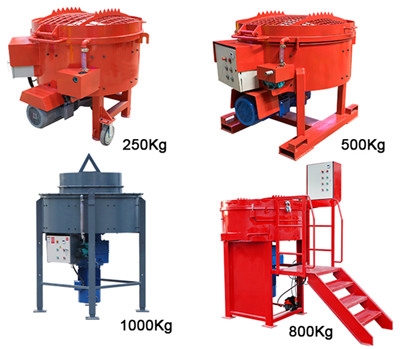 In the process of stirring and mixing, the particle size composition of general refractory materials is easily destroyed. For the production of individual refractory materials, the order of mixing and feeding will also affect the uniformity of mixing. The large capacity refractory pan mixer can avoid the above phenomenon. The refractory mixer can quickly mix refractory materials with poor dispersion and various refractory materials. As the large capacity refractory pan mixer manufacturer, we can supply the 100KG, 250KG, 300KG, 500KG, 800KG, 1000KG and the customized service for you.