Industrial squeeze hose pump for sale
2021-10-03 16:24:12
The industrial squeeze hose pump for sale is also known as the peristaltic hose pump, and there is a squeeze hose in the pump room. When the rotary disk rotates and squeezes the hose, the hose generates negative pressure, inhales the slurry, discharges from the outlet under the push of the drum, and eventually forms the pressure transport of the slurry.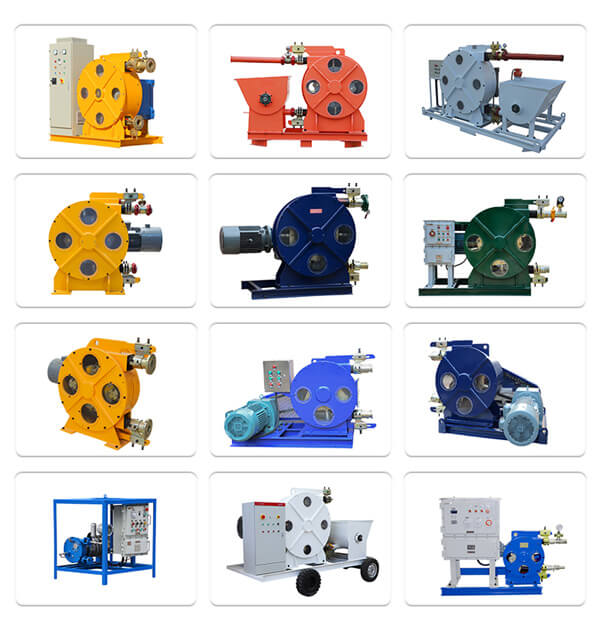 The GH series of industrial squeeze hose pumps mainly is consists of pump rooms, rotors, rollers, idlers, extrusion tubes and drives. The extruded hose in the pump room is U-shaped and deforms when the rotor drives the drum to rotate. After the drum is turned, the deformed hose is elastically restored. Thus in the hose to produce negative pressure, inhalation of slurry, driven by the drum from the outlet, and finally form the pressure of the slurry transport.
1. Industrial squeeze hose pump is based on hoses or tubes, inhalation hoses or tubes into the fluid of alternating compression and relaxation, similar to our throat and intestinal activity principle.
2. A rotary or roller compresses it sufficiently vertically along the hose or tube, and the suction and outlet of the pump form a seal and slides the control product.
3. Hose or pipe recovery relies on the powerful vacuum generated to draw fluid into the pump.
4. The pumped fluid does not touch any moving parts and is completely sealed in a sturdy heavy hose or precision extrusion tube.
5. This precise pumping action makes the pump suitable for precise filling procedures and has pressure levels of up to 16 bar (hose) and 2 bar (pipe).
6. High-pressure hoses have a 2-6 reinforced inner and outer layers, enabling them to withstand higher operating pressure and a higher suction ratio from non-reinforced tubes.
The extrusion hose is only the part that comes into contact with the material throughout the suction slurry process. The driven rotor does not come into contact with the material, only the tube is a replacement part. Generally speaking, extruded hoses are divided into natural rubber (NR), butyl rubber (NBR), food grade hose and triple ethyl propylene rubber according to the material.
(1) I
ndustrial squeeze hose pump for c
onstruction projects: mortar, concrete transport, spraying.
(2) I
ndustrial squeeze hose pump for p
harmaceutical engineering: the transport of corrosive and toxic materials.
(3) S
queeze hose pump for w
ater treatment: the transport of water and wastewater.
(4) I
ndustrial hose pump for m
ining engineering: the transport of mineral waste residues.
(5) I
ndustrial hose pump for u
nderground engineering: the transport of mud fluid in TBM.