Hydroseeding machine
is suitable for greening of side slopes of expressways (railways), re-greening of wounded mountains, soilless coverage of landfills,
baseball field,
golf course, slope greening and playground greening etc., g
reening projects such as mine re-greening, desert control, river bank protection, maintenance and watering, and large-scale green space reconstruction.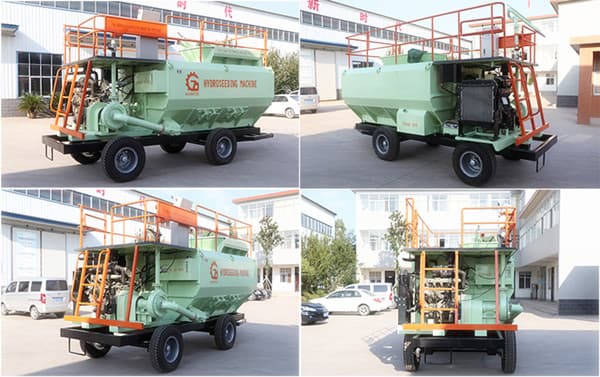 Eco-friendly, sound-absorbing and beautiful, and can be perfectly integrated with the natural ecological environment. No construction waste and construction noise will be generated during construction.
The choice of vegetation can be diversified, and it can form a benign ecological vegetation system. The organic combination of trees, shrubs, vines, flowers and grasses makes the vegetation not easy to degrade, which is conducive to the rapid restoration of the ecosystem, and quickly restores the slope environment to state of nature. Greatly reduce post-maintenance costs.
During the filling operation, it can reasonably and accurately supplement the missing elements and nutrients in the soil, which is more conducive to the growth of vegetation.
For the ecological restoration of hard slopes or rocky slopes, it can provide a soil environment with sufficient thickness for vegetation growth.


1. Water conservancy and transportation engineering: ecological river bank, re-greening of reservoir fluctuation zone, wetland engineering, lake and coastal engineering, highway subgrade slope, bridge pier slope protection, culvert entrance and exit "character" wall.
1. The main structural material is made of high-quality structural steel. It ensures that the planter is strong and durable, no matter how harsh the conditions. It has a reasonable, generous look. Painted with imported paint, it is guaranteed not to fade for three years.
2. Advanced technology, effective for mud slurry with poor fluidity, no blockage, no shutdown, adaptable to various materials, and high output pressure.
3. There are two stirring modes of blade stirring and circulating spray, with strong power, to ensure that the spray mixture during the planting process is in a fully suspended and fully mixed state, and the raw material mixture is uniformly discharged at one time.
4. Strong power, the maximum lift can reach more than 80m, equipped with a variety of spray guns, the maximum operating range is expanded to 300m; fan-shaped nozzle or mist spray is more suitable for focal length planting to meet various requirements.
5. The
hydroseeding machine
has a wide range of uses, not only for the spraying of rice, grass, trees, flowers, seeds and other crops, but also for daily care and soil improvement work such as irrigation, fertilization, and pesticide spraying. The machine can also mix different materials such as seeds, fertilizers, soil conditioners, seed binders, humectants, straws, fiber covering materials, loess, laterite, sand, clay, etc. slurry.
2. What is the mixing material you need? mixing tank 6000L, 8000L or bigger or smaller?
3. About the engine, do you need Chinese brand engine or Cummins engine?