Hydroseeder machine for golf course grass seeding
2021-11-01 15:37:41
Hydroseeder machine for golf course grass seeding
is more effective than turf, broadcast seeding or any other method of building turf or controlling erosion. Gaodetec hydroseeders suppliers use 100% hydraulic drive, mechanical paddle mixing and liquid recirculation to enhance loading, mixing and discharge operations.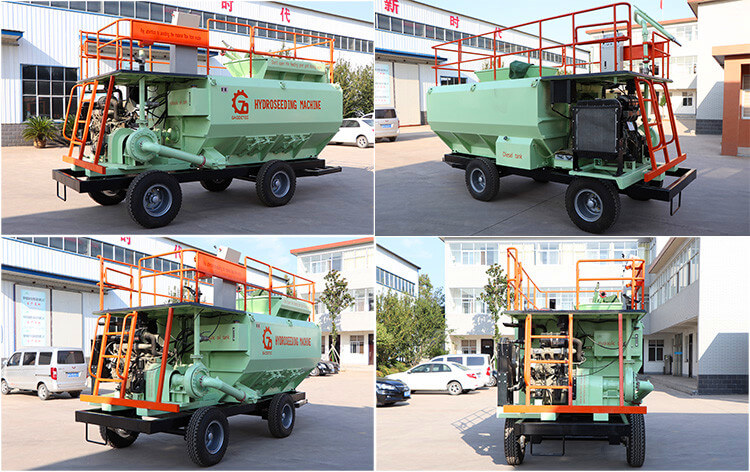 The
hydroseeder machine
for golf course grass seeding is a kind of slope greening and grass planting equipment, which mixes grass seeds with soil, turf soil, water-retaining agent, adhesive, fertilizer, etc. in a tank filled with water to form a colloidal mixed slurry. Mud pump will It is sprayed on the ground to be sown. Because the mixed slurry contains water-retaining materials and various nutrients, it ensures the source of water and other nutrients needed for plant growth, so that plants can grow healthily and quickly to form a lawn.
Hydroseeder machine for golf course grass seeding

feature:
1. The construction efficiency is high, and the daily spray area is 3-5 times that of the dry spray machine
2. The vehicle-mounted sprayer is easy to move, especially suitable for low and medium slopes and relatively scattered slopes
3. The construction is more convenient, the whole machine is operated independently, and it is convenient to use
We will provide you
h
ydroseeder machine
with numerous applications, including erosion control (temporary and permanent), seeding, fertilization, dust control, daily landfill coverage, mine and oil field reclamation, hydraulic spraying, fire extinguishing, watering, coastal work, street cleaning, etc.
Hydroseeder machine for golf course grass seeding
is widely used in high-speed highway (iron) slope greening, mountain reforestation, landfill without soil cover, mine greening, desert management, embankment protection, maintenance sprinkling, large-scale greenbelt reconstruction and other greening projects.
As a supplier and manufacturer of h
ydroseeder machine
, Gaodetec Equipment has many years of design and manufacturing experience.
Gaodetec can provide customers with suitable h
ydroseeder machine for golf course grass seeding
according to different engineering requirements, such as slope, slope height, and geological conditions.