Hydroseeder for sowing grass seeds
2021-12-29 18:22:46
Although spraying grass seeds is the specialty of hydroseeder, some operators have done it very successfully, and some operators have ended up in failure. What is the reason? The author believes that the key is that some matters have not been paid attention to. The matters needing attention are mainly the following aspects.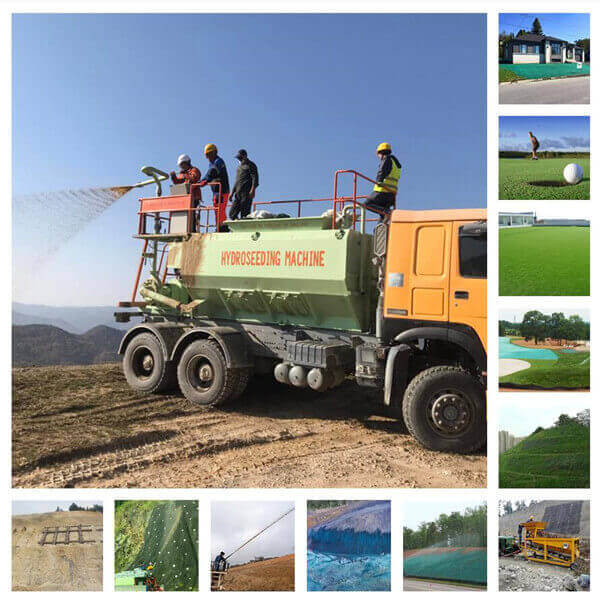 1. The soil should be analyzed before spraying, and if necessary, improve it.
2. Pay attention to the necessary treatment of the slope, including soil preparation and fertilization, to meet the requirements of hydroseeder for sowing grass seeds
3. Pay attention to the choice of substrate. The substrate is an important factor to ensure the success of spraying, and the proportion of spraying substrate should be appropriate to ensure the germination and growth of grass seeds.
4. Pay attention to the amount of water-retaining agent and adhesive. The water-retaining agent should be adjusted according to the climatic conditions and the characteristics of the rock field; the adhesive should be determined according to the slope of the rock wall, which is proportional to the slope.
5. ​​Pay attention to adding proper amount of chemical fertilizer to the hydroseeder for spraying grass seeds to ensure that the grass seeds can grow quickly and vigorously after they sprout.
6. Pay attention to the selection of grass species. When spraying, choose suitable lawn seeds or stolons, and determine the sowing amount. The grass seeds sprayed should be perennial varieties with well-developed roots, fast growth, drought resistance, and barren tolerance; if local the winter is cold, the frost resistance of the variety should also be considered.
7. Pay attention to grass seed mixing, and use the complementarity of grass species, such as deep rooting and shallow rooting, legumes and grasses, field and local, early development and late development, and other characteristics for mixed spraying.
8. After spraying is completed, pay attention to timely management and maintenance of spraying areas, determine the spray irrigation plan and irrigation volume according to meteorological conditions, and take appropriate moisturizing measures when necessary.
Use hydroseeder to spray grass seeds, pay attention to the above matters to spray successfully and achieve ideal results. Any need you can contact us, email address: info@gaodetec.com