Gaode grout machine were used for mixing and pumping bentonite
2018-08-07 17:13:25
The grout machine were made by GAODETEC equipment were widely used for mixing and pumping bentonite slurry in tunnel projects.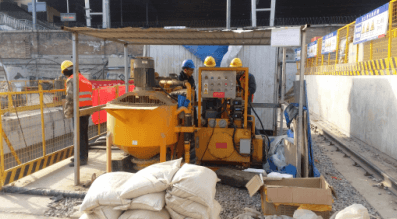 The grout machine was one high shear grout mixer, agitator, grout pump all-in-one, here we named the type as GGP400/700/80PL-E gout plant, the high shear grout mixer volume is 400L, agitator volume is 700L, there are two stages for pressure, that's low pressure and high pressure, when at low pressure stage, the pressure is 0-25 bar, grout flow is 0-80L/min, when at high pressure stage, the pressure is 45 bar, flow is 0-58L/min.


The grout machine for mixing and pumping bentonite has following advantages:
1. Continuous output with small pulse or kicks or jerks.
2. Grouting pressure and flow both could be adjust step-less.
3. High speed vortex mixer ensures mixing evenly and quickly.
4 grout mixer and agitator switch by using squeeze handle, easy to operate, safe and reliable.
5. The motors with overload protection function.
6. The hydraulic system with oil temperature overheating protection.
7. Les spare parts make sure the machine with low maintenance costs.
In one word, the grout machine with simple structure, compact size, light weight, easy maintenance etc. features in one.
So please contact us now for one suitable grout machine to mixing and pumping bentonite slurry.
If you don't know which type grout machine is suitable for your project, please help us to confirm the following points:
1. What is the pressure do you demands?
2. What is the flow do you demands?
3. Would you like the grout machine with electric motor or diesel engine? If you want the injection grout pump wok with electric motor, also please confirm the voltage at the worksite.
Send your answers and demands to info@gaodetec.com for more suitable type and the best price.
If you couldn't know the answers of the questions, also please don't worry, Gaodetec also has its own technical team and with research and development ability, please send your project demands on the grout machine to us, we will recommend the suitable type or design suitable grout machine according to your demands.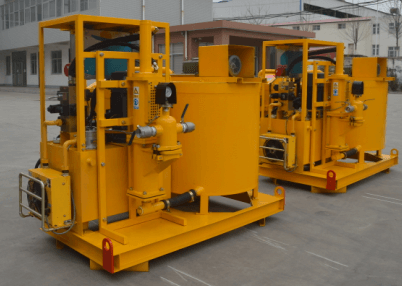 So any question or any demands on the grout machine, please contact us without any hesitation, once confirm the detailed needs on the grout machine, much better solution will be offered to you at first time.
Contact us now for more information for your mixing and pumping bentonite business now!!!