Grass seeds spraying machine for virescence engineering
2020-09-15 11:40:40
Grass seeds spraying machine for virescence engineering

According to China's natural conditions and actual conditions, to efficient, reliable, economic and application as the principle, the United States technology is mainly used to absorb the technical characteristics of Japan, Germany, Australia and other countries, to achieve domestic spray machinery and spray auxiliary materials industry. This is an effective way to speed up the process of ecological restoration and construction in China. How to improve the mechanical efficiency and lift of injection will be the focus of its research. It has become the "main force" of ecological restoration.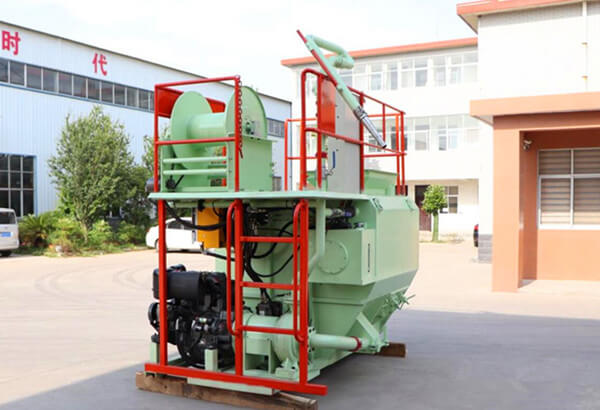 Grass seeds spraying machine is used for spraying slurry, grass seeds, fiber mulch, fertilizer, water preservation agent, adhesive water-like mixture, it is used for residential landscape, commercial landscape, soil erosion control, mine restoration, etc.

Grass seeds spraying machine for virescence engineering is also suitable for stable soil slopes, high land-filling foundation slopes, man-made soil slopes, lawns, rice fields, gardens, golf courses, parks, schools, soil improvement and erosion control sites.

Feature of our grass seeds spraying machine for virescence engineering: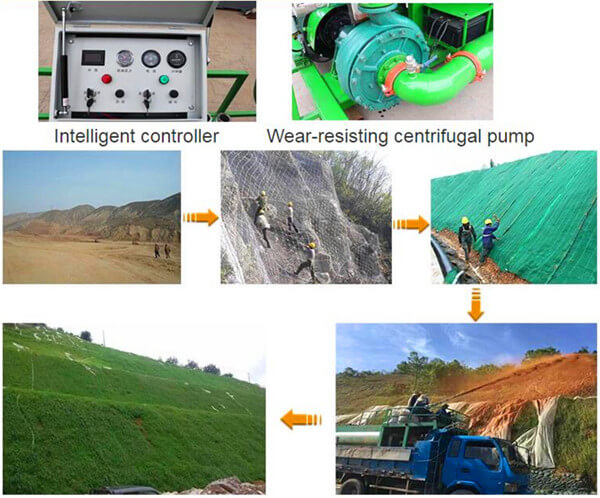 1. Grass seeds spraying machine is with the pump hydraulic sprayer has two powerful drivers, high-performance special pumps and high material handling capacity, most suitable for more than 45 degrees of stable soil slope, high filling embankment slope and man-made soil slope conditions.
2. Hydraulic sprayer beautiful appearance, compact structure, affordable, suitable for the vast number of users.
3. The overall mobility is good, complete with supporting accessories hydraulic sprayer. Virescence engineering grass seeds spraying machine is equipped with an electric start diesel engine, easy to operate.
4. Safe and convenient operation. The machine is equipped with a fully functional operator panel and a jump-proof operating platform with a removable 80 cm high enclosure to ensure the safety of console operators, gun operators and other staff.
5. Two mixing modes, blade stirring and circular spray, are powerful enough to make the spray mixture in a fully suspended and fully mixed state during planting, distributing the raw material mixture evenly at a time.
6. Grass seeds spraying machine for virescence engineering is with pump strong spray seeding machine is widely used, not only for rice, grass, trees, flowers, seeds and other crops spraying planting, but also can be used for irrigation, fertilization, pesticide spraying and other daily care, soil.
7. Powerful, extends up to 60m and is equipped with vertical and horizontal spray guns, with a maximum range of 200m to 300m, and fan nozzles or mist sprays are more suitable for close-range planting to meet various requirements.
1. The project you will use the machine do: for slope greening, playground greening or other?
2. The total working area you will do.
3. The mixing material do you need? 3000L, 6000L, 8000L or much bigger or smaller mixing tank you need?
4. Could you please offer the slope photo which you will spray to us for reference, and what's the height of the slope?
Suitable type grass seeds spraying machine and the best price will be offered to you once get your confirmation. Email address: info@gaodetec.com