How to use refractory gunning machine in refractory lining process?
2019-11-21 15:43:39
Best performance of your refractory lining by using our refractory gunning machine. The application of refractory gunning machine in refractory lining process:
1. Dry gunning (Conventional and High Density)
2. Wet gunning / Spraycasting / Shotcreting
3. Casting and Pumping
4. Bricking
5. Rodding
6. Patching
7. Ramming
8. Hyrate gunning
Find the ideal refractory gunning machine for your monolithic refractory needs.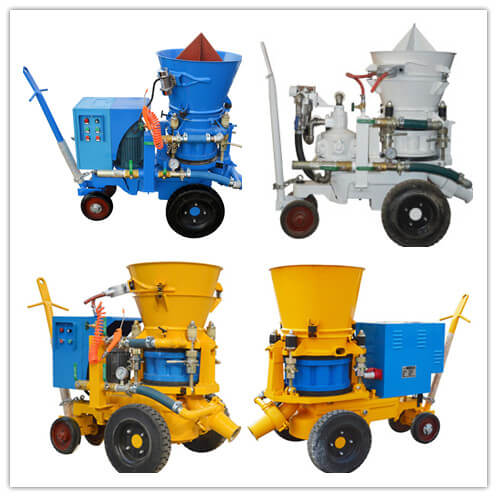 Our design experts are constantly looking for ways to improve the application of our methods to make our refractories faster and safer to install, with the high level of performance you expect.
Designed for everything from traditional to sophisticated, our products are tailored to the specific conditions in your area.
CASTING
Castable refractory: Castables consisting of dry aggregate and binder are suitable for all industries, but our GZ-3ER series is specifically designed for aluminum contact.
GUNNING
Gunning material: A refractory castable that is delivered to the installation location by a flexible hose that is wetted and projected through a hand held nozzle in the target area. Although wet spray (see shotcrete below) provides a faster output rate, dry injection allows for operation farther away from the feed station. Gaodetec can provide a spray gun for your next refractory installation - please contact our experts for more details.
SELF-FLOWING
Low-cement, self-flowing product: It can be placed around the castable behind the formwork and around the anchors in hard-to-reach areas, providing great advantages in terms of installation. In addition, these self-flowing or pumpable castables can be delivered to high altitudes by spraying. The product range includes the Indian market.
RAMMING
Refractory plastic mixtures: consisting of moistened aggregates that can be rammed into place with an air & electric hammer.
DRY INSTALLATION
Dry Refractory: Can be installed in powder form without the need to add water or liquid chemical binder directly to the heat source. Dry materials are usually placed by tamping or vibration, which is useful for quick repairs, even initial installation or complete reinstallation of all types of induction furnaces or EAF furnaces.
REPAIR AGENT
PATCH products: Ideal for quick and easy repair of worn linings, especially in the foundry industry.
PLASTIC INSTALLATION
PLAST product line: A similar installation to ramming, although the plastic is softer and is packaged as a slice in the box (rather than in a bucket). The main applications of plastic materials are steel and reheat furnaces.
STIX INSTALLATION
STIX product line: Dry material, ready to use when mixed with water. Installation is similar to PATCH material, but for thicker repairs.
HYRATE GUNNING
HYRATE product range: Plastic materials with good thermal shock resistance can be applied by spraying, and the application rate of these materials is greatly improved compared with the traditional beating method.
Refractory gunning machine in refractory lining features:
Refractory spray machine test is a straight rotor type fire repair machine;
Variable output with ABB inverter;
Bag cutter and flat funnel with vibrator;
Clean the dust removal gun;
New pre-wet nozzle assembly.