Dry gunning machine for refractory installation
2022-07-09 17:34:51
In Zhengzhou City, Henan Province, there is a medium-sized business called Gaodetec Equipment. When it comes to the processing of gunning mixtures, low-wear pneumatic conveying, and the injection of bulk materials into processes of various kinds, quality and competence have been our top concerns for ten years. For the construction and refractory sectors, Gaodetec manufactures concrete gunning equipment of the highest caliber. We provide you with our high-quality supplies and support you with our concrete spraying technology for your projects.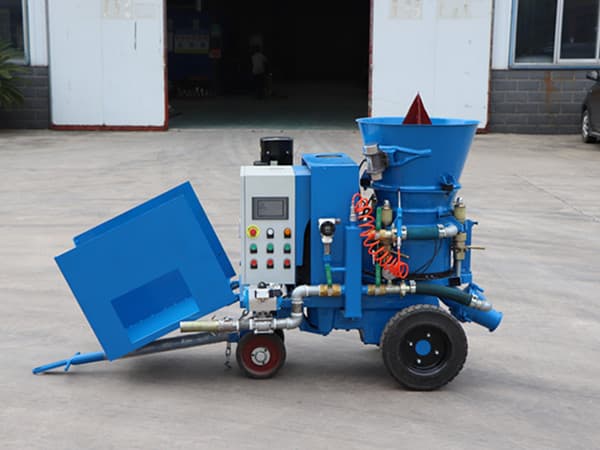 When metal melts are produced or when extremely high temperatures result from combustion processes, high performance dry gunning machines for refractory installation are used. They provide the best protection for both persons and machinery. A high processing quality is crucial since numerous ceramic and inorganic components contribute to refractoriness. You need good, uniform moistening and pulsation-free conveyance of the spraying component for dry-spray processing. For this use, we offer rotor and pressure vessel spraying equipment. Gaodetec created various types of gunning manipulators for hot repairs in steel and metallurgical industries, which enhance steel smelting working conditions and lower accident risk.

A water pump that automatically delivers water through a time relay is included in the high performance pneumatic refractory dry gunning machine for sale. Water is added uniformly around the mixer thanks to three water outputs. The operator can be safeguarded by using the limit switch underneath the lid. The mixer will cease functioning right away if the lid is opened.
The high performance refractory dry gunning machine's basic operation is to use compressed air to rapidly spray out a specific proportion of refractory material to create a refractory layer on the surface of the masonry being sprayed. This machine is popular due to its many benefits, including quick spraying construction, high efficiency, and high engineering quality.

Consider the GZ-3ER/S product as an illustration. This high performance electrical gunning machines for refractory installation was created especially for the application of concrete and refractory dry-mix shotcrete. You can receive a high-performance spraying flow and little dust with this GZ-3ER/S. Straight chamber rotor type refractory gunning machine, PLC integrated machine control, electric control cabinet cover, and pneumatic master valve switch are some of the features of GZ-3ER/S. It is frequently used to line kilns, boilers, furnaces, and to repair concrete buildings.

The advantage of high performance dry gunning machine for refractory installation:
1. ABB frequency Converter, variable output, the gunning capacity is exactly adjusted.
2. Single Hopper, easy to feed, avoid leakage.
3. High Pressure Water Pump.
4. New type Pre-dampening Nozzle Assy
1). The addition of water is exactly adjusted.
2). Reduces considerably dust development and rebound.

Application: mostly relevant to: thermal spray patching of industrial furnaces' refractory layers. primarily relevant to the building of concrete spraying and support for tunnels, culverts, subways, hydropower projects, underground projects, mine tunnels, highway slope protection, etc.
We have been offering our customers dependable and high-quality dry gunning machine for refractory installation for decades because to our extensive experience. We are also pleased to help you with your projects in the steel, foundry, refractory, or construction industries. In the future, trust on Gaodetec's creative ideas and let us provide you unqualified advice.

Email us at info@gaodetec.com to get in touch.