Diesel version grout plant unit for sale
2022-01-08 13:46:56
As a diesel version grout station manufacturer, we have diesel version grout station with different tank sizes, pump output, working pressures and powers. Such as: the mixer volume is from 100L to 1200L, the agitator volume is from 150L to 3000L, and the output is from 50L/min to 300L /min. We could provide customized services for customers according to their requirements.


Take GGP800/1200/200PI-D diesel version grout unit as an example:
GGP800/1200/200PI-D diesel version grout unit is combination of mixer, agitator and grout pump in one plant. It is driven by diesel engine.
It is a high-speed diesel version grout station that produces a homogeneous crushed suspension through a high-speed grout mixer. Diesel version grout station is equipped the automatically batching weight system and PLC control system to automate operations.


Technical data of GGP800/1200/200PI-D diesel version grout unit:
The mixer volume of LGP800/1200/200PI-D diesel version grout unit is 800L, its agitator volume is 1200L. Grouting pressure and output are step-less adjustable. Its working pressure is 0-5Mpa, its output is 200L/min. And the power of diesel power is 55Kw.

Application of GGP800/1200/200PI-D diesel version grout plant:
1. Civil engineering - dam, tunnel, subway; mine, soil nailing wall, curtain, anchor, cable trench and anchor grouting;
2. Building structure - building and bridge repair, foundation reinforcement, slope support, soil
compaction, terry grouting;
3. Engineering - underwater foundation, offshore platform, coast foundation grouting reinforcement;
4. Mine application - roadway reinforcement, backfill, waterproof grouting;
5. Acted as a grouting plant in the pipe jacking machine.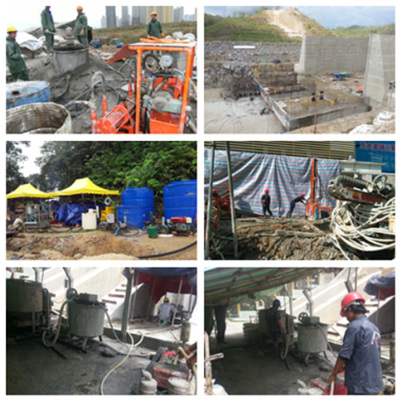 Features of GGP800/1200/200PI-D diesel version grout plant:
1. 55KW air cooling diesel engine as the power, it is suitable for field construction;
2. Pump output is 0-200L /min. Pump pressure is 0-5Mpa. All step-less adjustable;
3. Simple structure, light weight, easy maintenance;
4. Double- cylinder and single -acting grouting pump: grouting continuous and pulse small;
5. The latest improvement design of valve chamber: It is quickly convenient cleaning;
6. Grouting pump outlet is equipped with buffer. This can further reduce the grouting pressure
7. Delivery with special tools. This can ensure change the pistons rapidly, reduce the time of replacing;
8. Less spare parts ensure low maintenance costs;
9. High speed vortex mixer ensures mix quickly and evenly;
10. Mixer and agitator switch by using squeeze handle, it is safe, reliable and easy to operate;

Besides, we have others type diesel version grout unit. Such as:
GGP400/700/ 80/100DPI-D grout unit is a diesel double cylinders piston pump grout plant. Its mixer volume is 400L, agitator volume is 700L. When working at low voltage, its working pressure is 4Mpa, its output is 80L/min; When working at high voltage, its pump working pressure is 10Mpa, its output is 40L/min.
GGP250/350/100DPI-D diesel version grout station is driven by a diesel engine. Its grout mixer volume is 250 L, its grout agitator volume is 350L. And its grout pump is double cylinders piston pump. Its working pressure is 0-100 Bar, its output is 0-100L/min.
Contact us for diesel version grout station details:
We are a diesel version grout unit supplier. If you are interested in our diesel version grout plant, we will recommend a suitable one for you. Please help us to confirm the following points:
1. What kind of grouting project would you use the grout equipment?
2. What is the pressure and flow rate do you need?
3. How about the water and cement ratio, does any sand in?