Diesel engine soil seeding spraying machine manufacturer from China
2021-08-11 18:19:42
Gaodetec diesel engine soil seeding spraying machine adopts double diesel engine driven, stirring power and output separately, head higher, faster and more efficient, can do railway reservoir dam area of highway slope greening plant, spray can also be used in paddy field, grass, trees, flowers, seeds and other crops, also used in daily care and soil improvement irrigation, fertilizer, pesticides, etc.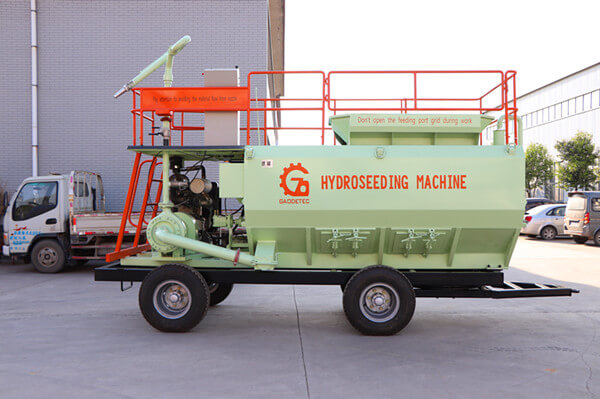 1. After slope excavation, the exposed rock slope needs to be repaired as soon as possible to prevent soil erosion, strengthen slope stability and prevent slope collapse.
2. In order to restore the vegetation of rock slope, special machinery and equipment are used to spray the guest soil in the area with poor site conditions (such as rock slope), so that the guest soil can form a stable topsoil and provide a basis for the growth of vegetation. Create a primary ecological balance suitable for both plants and microorganisms.
3. It is a kind of greening technology that promotes vegetation growth and restores nature by artificial auxiliary means. As a result, in areas that have been sprayed by soil, native grasses and small shrubs invade, resulting in a harmonious and beautiful landscape with the surrounding landscape.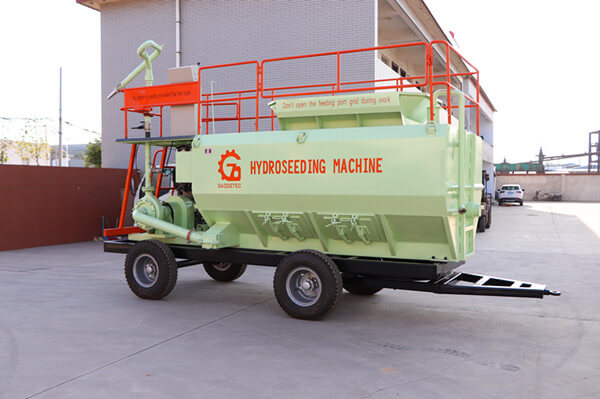 Gaodetec diesel engine soil seeding spraying machine is simple and safe to operate, equipped with a fully functional control panel on the machine skid table. The 80cm high fence can be disassembled according to the customer's requirements, which is not only used for the safety of console operators and machine guns, but also temporarily used for stacking goods.


The technical process of water seeding mainly includes slope clearing, line survey, material mixing, water seeding and maintenance management. Hydraulic seeding materials are made up of grass seeds, grass fibers, peat, water retaining agents, adhesives, fertilizers and local soil materials mixed with water. Maintenance and management are important for seed growth after water seeding.


In large-area grassland projects with poor soil conditions, water mulch technology is becoming more and more common.


The hydraulic seeder adopts a high-power diesel engine, a mixing system driven by a hydraulic motor, and a powerful centrifugal pump for spraying thicker materials (the solid content of the mixture is 60%-70%). It is specially designed for grass projects with hard soil conditions, high spraying distance and long grass. Such as highway slope greening, erosion control, landfill coverage, mine reclamation, dust control, landscaping, etc.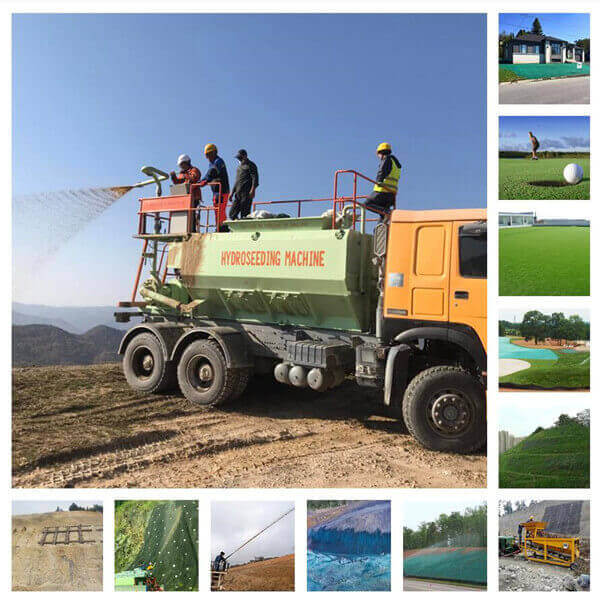 Gaodetec is the top brand manufacturer of Gaodetec diesel engine soil seeding spraying machine in China. We have much experience of designing and producing Diesel engine soil seeding spraying machine. Gaodetec can provide the suitable hydroseeder for customer according to the different project demands, such as slope, slope height and geological conditions.


Gaodetectec equipment offers several tank capacity diesel engine soil seeding spraying machine manufacturer at a reasonable price. Check out our extensive list of affordable machines built by Gaodetectec hydromulch machine manufacturer. Details on each of these models are listed on our website. Looking to buy a new hydro-seeder or hydromulch machine for sale? Have questions about our hydromulch machine Australia? For more information on pricing, features, etc. please feel free to contact us: info@gaodetec.com