Diesel engine concrete mixer pump for house building
2019-10-21 14:11:22
The diesel engine concrete mixer pump is a concrete pump developed by Gaode Equipment Co., Ltd for those sites that have difficulty accessing electricity. Without any power access, diesel engine concrete mixer pump can pass the diesel power equipment and enter the construction process as usual on the construction site. It is a new rural area. Ideal transportation equipment for construction, water conservancy projects, tunnel construction, etc.
As the saying goes in China, "To be rich, to build a road first", in addition to smooth, traffic safety is also very important. The diesel engine concrete mixer pump adopts high-speed hydraulic system, new high-speed reversing mode, pumping commutation efficiency is increased by 12%; large-displacement pumping system, suction efficiency is increased by 6%, meeting various working conditions, suitable for various terrains. New rural construction.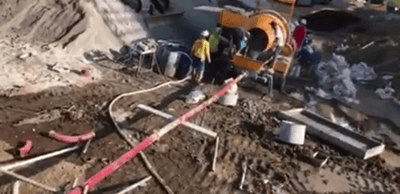 Diesel engine concrete mixer pump
for house building adopts full hydraulic reversing open system. The hydraulic oil has high cleanliness, low oil temperature and small reversing impact. The main cylinder adopts patented waterproof sealing technology to effectively prevent water from entering the hydraulic system.
At the construction site, the concrete mixing truck pump from the mixing and discharging, to the pipeline transportation, to the discharge, the entire construction process in one go, the efficiency is extremely high, and concrete mixer pump for house building has been unanimously recognized by the on-site customers.
Just turn on the power switch and select each operation on the remote control. The next thing is to hand it over to the pump itself, the operation of diesel concrete mixer pump for building just as simple as a microwave oven.
The traditional manual method is not only safe, environmentally friendly, but also inefficient. It used to require 8-10 people to work continuously for more than 10 hours to complete the work. Diesel concrete mixer pump for building can be easily done in one hour with the stirring vehicle pump equipment; The construction quality and the stirring of the on-board pump are also greatly improved compared with the traditional man-made. The mixing of the concrete with pure mechanical equipment is uniform and the nature is stable, which greatly improves the quality of the houses in the rural self-built houses.