Concrete shotcrete machine supplier to UAE
2017-10-09 16:59:16
Gaodetec company is a best concrete shotcrete supplier in China. Gaodetec shotcrete machine supplier has more than 20 years' experience in this industry, now we develop dry-mix gunite machine and wet-mix shotcrete machine. Our concrete shotcrete machine has been exported to the UAE, USA, Canada, India, Malaysia, Pakistan, Korea, Bahrain and Nepal etc. countries. We control quality of shotcrete machine throughout the whole process strictly, and certified by ISO9001:2008, CE.

Concrete shotcrete machine uses a concrete pump to route the concrete through the pipe to the manipulator nozzle, and the concrete is sprayed onto the wall of the roadway with compressed air with fastener. It is reasonable structure, user-friendly design, reliable performance, easy operation and maintenance, long service life. Work clean, low noise, low rebound rate. Concrete shotcrete machine greatly reduces the dust concentration at the side of the machine and the nozzle, improves the worker's working environment and reduces the pneumoconiosis caused by dust. The device has received three national patents.

There are a lot of old customers who love our shotcrete machines in the Middle East, and they have made a high rating on our shot concrete machines. Last week a customer e-mail told us they wanted to customize 10 sets shotcrete machines for their construction.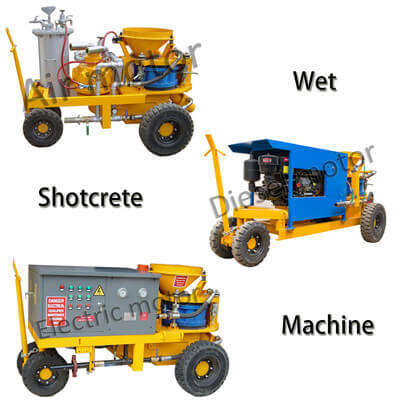 shotcrete machine in UAE is Widely used in engineering construction, mining, tunnels, culverts, subway, hydropower engineering, underground engineering and coal mine marsh roadway shotcrete construction operations: various types of industrial furnaces, lining refractory spray molding or repair: Construction, soil transport and spraying. The machine can be used for tidal spray, can also be used for dry spray and a class of fiber jet operations.