Cement piston mortar pump simple application
2018-07-13 15:33:35
The GMP35/30 cement mortar pump is a special masonry machine that allows cement mortar to be delivered across a distance of 80m and pumped up to the desired storey up to a height of 30m in a building under construction. GMP35/30 piston mortar pump is a piston pump with one single cylinder & single acting, mainly was designed for conveying and spraying mortar or plastering wall. The machine is equipped with an air compressor (0.25 m3-0.36 m3/min, 6-8 kg pressure) for spraying, and no air compressor is required if the machine is grouting.


Advantages of cement piston mortar pump:
The operation is simple. Before starting the machine, we can use the mixer to stir the mortar. This kind of mortar is even and sticky and moderately better than the manual mixing.
Spraying quickly, using a mortar sprayer, a wall can be sprayed in only a few minutes, and progress will be much slower if construction is performed.
Spraying is even, because when using spraying, it is a certain pressure and nozzle, so the thickness of spraying is better to grasp, there will be no uneven phenomenon, which is better than manual.
Saving materials can control the spraying speed and thickness of the sprayer, saving material compared to manual operation.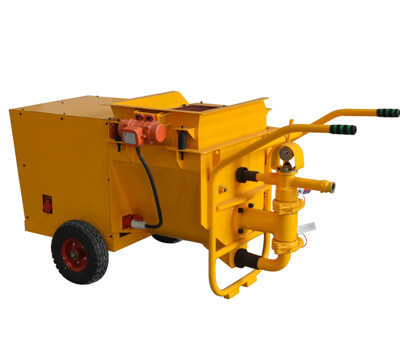 This machine has advanced technology, one machine and many uses, mortar pump application can spray cement slurry, insulation mortar, waterproof material, fireproof material, heat insulation material, sound-absorbing material, putty, paint, white latex, real stone paint, cement slurry and other water-soluble materials, peptidious materials. Mainly suitable for indoor and outdoor spraying, waterproof grouting and waterproof surface spraying. This product is not affected by regional and environmental conditions and by the shape of the sprayed surface. If you are interested our this mortar pump, please contact us freely.