Bauma China 2016 Fair
2016-11-21 17:22:47
Gaode Equipment attend Bauma China 2016, our booth no. E4. 357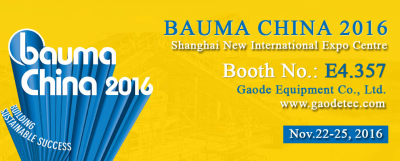 Bauma China, the International Trade Fair for Construction Machinery, Building Material Machines, Mining Machines and Construction Vehicles, takes place in Shanghai every two years and is Asia's leading platform for experts in the sector.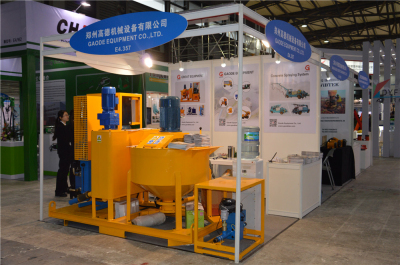 Gaode Equipment is a leading supplier of shotcrete machine, gunite machine, concrete spraying machine, concrete spraying system with robotic arm, grout pump, grout mixer, grout plant, grout station, grout equipment, grout mixer pump, hose pump, peristaltic pump, plaster machine, mortar pump, grout plaster pump, foam concrete machine, refractory gunning machine, filter press, anchor equipment and tools, soil seeding machine, slurry pump, concrete pump and other machines in China, as well as a unique supplier with ISO 9001:2008 and CE certificate in above products in China, our products have been exported to the USA, Canada, India, Malaysia, Pakistan, Korea, Bahrain, Nepal and so on.

A few of our employees have been working in designing and selling the above machines for about twenty years. They can provide customers with sincere, friendly and timely technical consultation, technical support and after-sales service. For good relationship with customers/clients, our company has been providing high-quality products at competitive prices with sincere and timely services. Many customers/clients are our friends and long-term partners now.

Our Service:
Before Sales Service:
1. Answering consultation from customer, according to customer's demands, help user choose suitable type.
2. According to demands to offer drawing and solution.

During Sale Service:
1. Transport the equipment to customer's site safely and timely.
2. If need, arrange technicists to train workers how to operate the machine rightly.
3. During the normal operation of equipment, our technicists direct the operators and maintenance personnel according to operating procedures (about 7-10days) till operating expertly.

After Sale Service:
1. Give a clear answer for user's complaints within 24hours.
2. If necessary, we send technicists to user's site to solve the problem timely.
3. Return visit at regular intervals.
4. Establishing user's record.
5. 12 months warranty, whole life service and support.
6. Providing latest industrial information.