Advantages of foam concrete as a heating layer for floor heating
2019-07-24
Nowadays, a large number of floor heating insulation layers have been changed from foam plastic to foam concrete. Foamed concrete insulation has many advantages compared with foam plastics, mainly in the following aspects.

1. Reduce the risk of foam plastics. Generally, if polystyrene foam is used as the insulation layer, it will cause great harm. If the hot water in the water pipe is more than 50 °C for a long time, the foam will decompose and shrink, the heat preservation may decrease or disappear, and the styrene released by decomposition will cause dizziness, chest tightness, nausea, and a series of poisoning symptoms. . And our foam concrete will not be pyrolyzed, and it is non-toxic and harmless, and it is green and heat-insulated.
2. Foamed concrete overcomes the shortage of ground settlement cracking after shrinkage of foam. In normal work, the foam concrete does not shrink and the ground does not crack.
3. Foamed concrete also overcomes the shortcomings of the floor screed before the foam insulation layer is paved. The foam concrete insulation layer can be directly poured on the slab, no need to do screed, which can shorten the construction period and save materials.
Foam concrete is a green building material, can be used in many projects, such as, foam concrete house, foam concrete brick, foam concrete wall panel, foam concrete rood, foam concrete floor, foam concrete filling, etc. Due to its lightweight, thermal insulation, fireproof, waterproof, soundproof, etc good performances, it widely used in building area.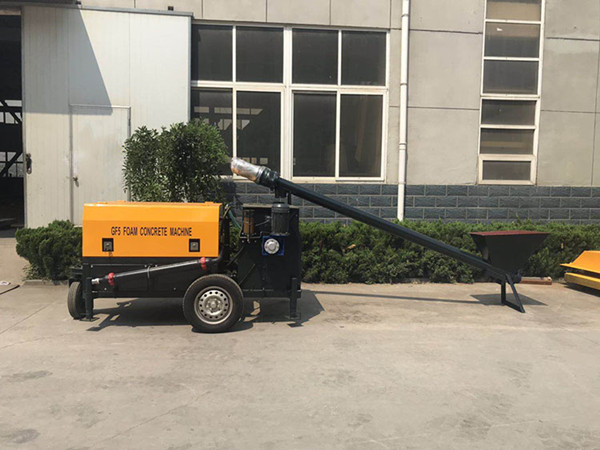 We can provide foam concrete machine for you to make foam concrete, capacity from 5m3/h to 100m3/h, and we also have foam concrete moulds, foam concrete formworks, clc block cutting machine, foam agent, etc. If you are interested, please feel free to contact us.