Filter Press in Salt Sludge Industry
2020-07-28
Gaode filter press equipment has a good treatment for salt sludge industry. After diaphragm filtering and blow drying operation by our automatic membrane filtering equipment, the filtrate will be sent to the stationary salt station for recycling, the filter cake is buried in the ground. This will be a good solution to the pollution of salt mud.


Certainly, these are the main operation process, sometimes you will also need to pay attention to some places. When changing the filtering plate, the efforts should be moderate; put the filter plates in right position; shouldn't remove the plate when filtering, the broken plates should be replaced timely, couldn't be used again.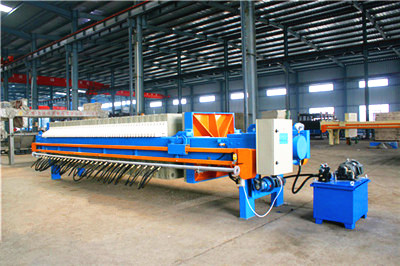 Gaode equipment Co., Ltd is a Chinese filter machine manufacturer. We can offer many different types of filter presses, and our filter presses are very popular in many countries. Membrane filter plate plant is arranged by the membrane plate, the chamber press, the material is delivered to the chamber by the feeding pump, and the solids and liquids are separated by the filter cloth. When the solids in the slurry form a filter cake, the air is introduced into the membrane, the solids are pressed into the chamber volume, and the moisture content is reduced. This membrane filter has more special functions if used to filter materials that are too sticky or higher moisture content.