application of hydroseeder machine
2016-09-13
Hydroseeder machine is a new green technology, with green seeds and water retaining agent, a binder, and fertilizers, in the stirred vessel is mixed with water into a mixed slurry. And then pump pressure will pump them on seeding sowing the land. Because of the mixed slurry containing water-holding materials and various nutrients required for plant growth to ensure that the water and other sources of nutrition substances, therefore plants can healthily and rapidly grow. Hydroseeder is suitable for large area of green jobs, especially in the more arid areas of the lack of irrigation facilities.


Step:
1. Before you begin, we must first clean up the slopes. Using picks, and other tools to clear the slope steel dry gravel, pumice, dangerous rock;

2. The selection of bolt must pay attention: bolt length 1-2m rebar. His main role is solid slope and easy to hang. If the slope is too steep, then you should hang crossbar;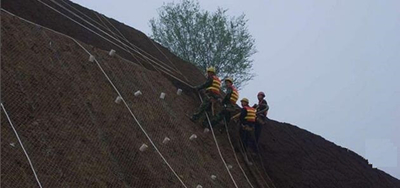 3. In the top of the hill repair drains, preferably below the net pressure in the gutter to prevent landslides, theft; hanging on top of the hill remain 20-750px, bottom left 500px, overlap between the net and the net pressure 1-2 cm with U-nails or wire fixed;
4. Spraying machine use, the substrate mixture is sprayed onto the slopes. As far as possible be ejected from the front, top to bottom, left to right order of operations, avoid spraying Yang, reliefs be careful not to leak spray, do not stay dead. Finally, again, will be planted in the soil, or wood pulp fiber, water retention agents, binders, stir grass, sprayed onto the slope, probably in thickness 0.5-25px;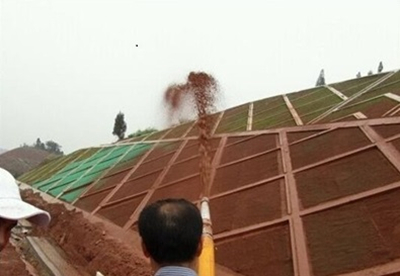 5. Covering non-woven fabric (16 ~ 18g / m2). After spraying a non-woven fabric made of polymer mixed with a slope covered from top to bottom, is conducive to moisture, preventing erosion. Non-woven density requires 15-18g/m2;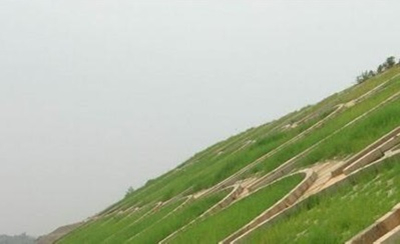 6. Maintenance Management: The main job is to spraying, irrigation, fertilization and pest control;
7. Watering based on weather conditions and humidity slopes. Usually watering twice a day to promote the shrub and grass seed germination and seedling whole. After emergence, can be watered once a day;



8. 10-20 days after seeding, plant growth out after the slope, if the slope of the non-woven fabric does not degrade, the use of artificial methods to uncover non-woven, conducive to plant growth.