Small concrete pumps for sale S valve structure principle
2016-06-16 18:58:10
Small portable concrete pump consists of hopper, valve box, mixing system, pushing mechanism, hydraulic system, electric control system, trailer mechanism, cooling system and automatic lubrication system etc.

S valve structure as the following: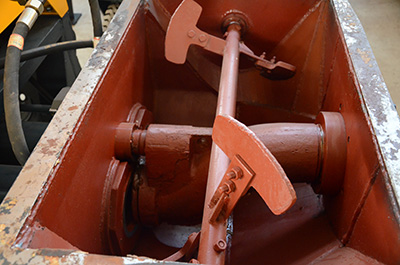 1、2——HYD cylinder 3——water tank 4——cylinder rod 5、6——concrete cylinder 7、8——concrete piston 9——valve box 10——S pipe valve 11——swing arm 12、13——swing cylinder 14——concrete outlet

The pumping system employs a S-pipe design valve system. This system incorporates material cylinders linked to hydraulic cylinders that cycle alternately. With concrete material in the hopper and the pump operating, a material cylinder retracts, drawing material into the cylinder. At full retraction of the cylinder, a signal is sent to both the S-tube swing cylinder and the drive cylinder directional valves causing the s-tube to shift position to the fully loaded material cylinder and the drive cylinders to change direction.

The concrete piston of the loaded cylinder then pushes the material through the s-tube and into the delivery lines. The shifting from one cylinder to the other cylinder takes place providing a continuous flow of material through the delivery piping system. The small size concrete pump can be operated at the control panel or can be operated from the remote control.

The hydraulic oil flow created by the hydraulic pump pushes the drive cylinder pistons inside the drive cylinders (1or2) alternately back and forth. Because the drive cylinders and concrete pistons (7 or8) inside the concrete cylinders (5or6) are linked together, the pistons move synchronously.

When a drive cylinder retracts along with the concrete piston, concrete will be sucked from the hopper into the concrete cylinder. Simultaneously, the other drive cylinder and concrete piston are extended toward the hopper. The concrete piston will push concrete from the concrete cylinders through the S pipe valve (10) and out to delivery system (14).

Next, the pump switches at the end of the stroke, causing the s-tube valve to shift to the other concrete cylinder which has sucked and filled the cylinder with concrete, starting the next cycle.

Reverse pumping links the concrete piston in the suction stroke and S pipe valve to suck concrete from the S pipe valve instead of the hopper. As a result, the concrete piston pumps concrete into the hopper.

The power of the small concrete pump is provided by the engine (electric power or diesel engine) which drives the hydraulic pumps.
For more information about portable concrete pump, please contact us. Email: info@gaodetec.com.