GZ Series shortcrete machine safety operation rules
2015-10-22 14:31:27
1.Before construction, we must make sure the tools, equipments, and raw-material is complete and intact.
2.We must make sure the construction place safe before shortcreting, draw out the pumice of shotcreting area. Take the strong scaffolding at the higher place.
3.Before flushing roof and wall, protecting all the electrical equipment, in order to prevent damaging the insulation and equipments.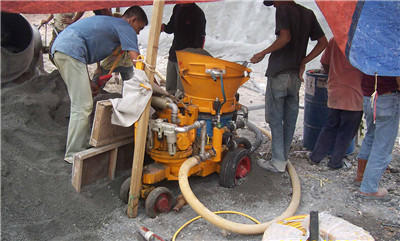 4.Before shortcreting, flushing the top and wall of the roadways, begining spraying when rock the moist.

5.Require raw-material of Shotcreting.
Cement: common cement,make sure the quality level should be higher than 400#.
Sand: sand should be silver sand ,sand particles in 2mm below, soilless should be sieved before used.
Water: water must be clean water, if there is impurity or silt in water, we should pass precipitation or filtration,and then be reused.

6.Mortar must be mixed evenly,defined amount,mortar may not have remaining mortar into spray device as soon as possible,in case precipiting and gushing out.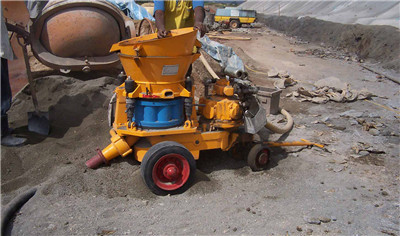 7.Forbid starting mortar machine or mortar pump when detecting mortar concentration.

8.Exact quantity of calcium chloride or other accelerator must be added into the gunning material if water in the construction plate.

9.Nozzleman must wear raincoat, rubber gloves,safety goggles,dust mask,etc.

10.Nozzle sprays two sides first and roofs later,the length is about 2 meters.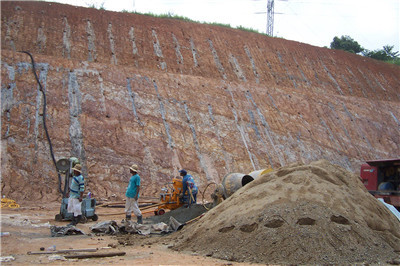 11.Nozzle should move in semicircle when spraying, According to the semicircle way, horizontal direction, be up. Make to shotcrete material at right angles with wall.

12.Spraying as evenly as possible, three times general, and 35-50mm every time.We pay attention to the changes of pressure gauges and nozzle output.

13.Inspecting pipe,avoid jam, at the same time, be sure around peo ple safty.

14.In shotcreting,there must be one man that manage and control Air Suction Valve and next making valve, and this man must be under the nozzleman's command.