Robotic shotcrete machine in South Africa
2019-08-09 15:06:34
Robotic shotcrete machine is applied in tunnel mining construction for sale in South Africa.
Gaodetec is one leading automatic robotic shotcrete machine manufacturer in China.
Robotic shotcrete machine is an important design of underground mine and tunnel operation, because shotcrete machine is a unique, compact, self-installed grouting system, it is extremely flexible and can be transported in underground mines and tunnels. Because the robot shotcrete machine makes commercial slip steering and four-wheel hydraulic drive, it is designed so that it can rotate on its own length and move around the mine in a convenient way. For more information, please check the following video.



Now we have tens types robot shotcrete machines for you option.
According to output different, there are 20m3/h, 25m3/h, 28m3/h, 30m3/h etc. robotic shotcrete machine.
According to max. spraying height of robotic shotcrete machine, there are 8m, 13m, 15m, 16m for choose.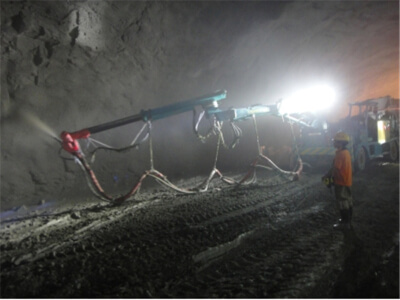 Do you want to buy one robot shotcrete machine for underground mine and tunnel? If yes, how to find one robotic shotcrete machine in South Africa?
We could offer one right robotic concrete spraying shotcrete system for tunnel spraying concrete project.
Gaodetec has tens types of robotic shotcrete system for option:
HSC-2008 series tunnel robotic shotcrete system: max. spraying capacity is 20m3/h, max. spraying height is 8m, max. spraying width is 12m;

HSC-2513 series small mine robotic shotcrete machine: max. spraying capacity is 25m3/h, max. spraying height is 13m, max. spraying width is 2x11m;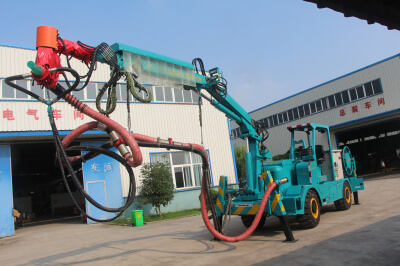 HSC-3016 series mine robotic shotcrete system: max. spraying capacity is 30m3/h, max. spraying height is 16m, max. spraying width is 2x14m;

Advantages of tunnel shotcrete machine in South Africa:
1. Four-cylinder engine, more stable;
2. Hydraulic transmission, stepless speed change, stronger grade capacity; and some common types are mechanical transmission, shaft gear is only speed;
3. Four wheels, bearing capacity is strong; ordinary single wheel only 2 wheels;
4. Hydraulic steering, easy to drive; some for mechanical steering;
5. German IFM intelligent controller;
6. Easy to use, good performance; others are only programmable logic controllers, unstable;
7. Trinity remote control, good quality; others are ordinary brands, quality can not be guaranteed; 8. Hose drug pump, more stable; others are screw pumps, the accuracy will become slower. The spraying efficiency is not good.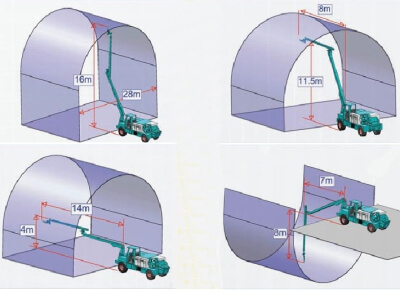 Gaodetec shotcrete machine includes mechanical arm and concrete pump. GSM 8 manipulator robotic shotcrete machine is combined with concrete pump, which is suitable for all difficult locations, whether loose ground or deep slope, because the manipulator designed by Gaodetec has two hydraulic activated self-braking rubber tracks and is independently controlled by two levers, so that the machine has motion autonomy. The arm can move at a large angle, rotate 360 °with the nozzle, and move to a 240 °vertical slope. More importantly, both wet and dry pumps can work with manipulators and are suitable for different shotcrete applications. Such as GPS-30 shotcrete concrete pump and GSM 8 manipulator shotcrete machine in South Africa work together, suitable for wet spray. The pump output is 2 ≤ 30 m ~ 3 h.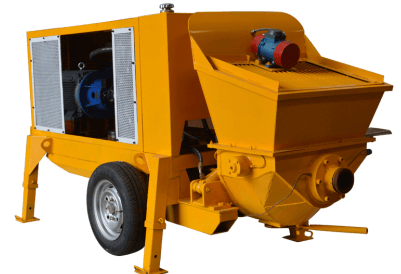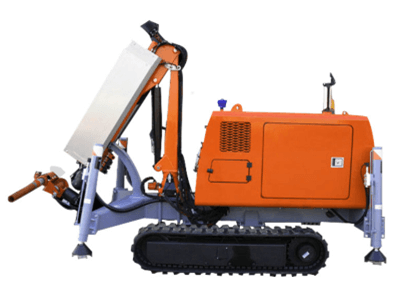 If you want to get more information or have any question or demands about robotic shotcrete machine in South Africa, please contact info@gaodetec.com without any hesitation for more information and factory price. Because Gaodetec also has technical team, could offer you one right solution, also could offer after-sale service in 7*24 hours.