Refractory gunning machine cost
2019-11-17 13:56:50
The refractory gunning machine is a machine specially designed for spraying refractory materials. Compared with ordinary dry-mixing spray guns, rotary refractory gunning machine guns have some outstanding features, low rebound and low dust. It is well known that refractory materials are more expensive than ordinary concrete. Low rebound is low waste and is important for customers to reduce the cost of projecting refractory materials.
The cost of the high-tech equipment refractory gunning machine generally includes the main body of the fire-resistant spray gun machine, high-pressure water pump, conveying hose, water pipe and new pre-wetting nozzle. If you want to get refractory gunning machine cost, you can tell me freely.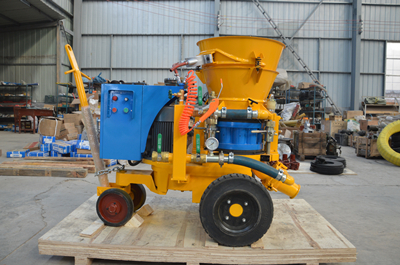 Rotary refractory gunning machine
High pressure water pump
Water hose
New type pre-dampening nozzle
It is necessary to add water to the nozzle to uniformly add moisture and achieve atomization in the nozzle water ring. If so, the rotary refractory gunning machine for sale needs to be equipped with a high pressure pump instead of a normal pump. In addition, in order to precisely adjust the amount of water, our nozzles are equipped with a needle valve instead of a ball valve. The needle can accurately adjust the amount of water and control the amount of water without the need for a skilled operator.
Regarding machine color, we usually have two colors, blue and yellow, for customers to choose. We can customize the color of our refractory gunning machine for sale according to the needs of our customers. If you need the refractory gunning machine cost or refractory gunning machine price, you can send us your need freely, email address: info@gaodetec.com
Blue color for India customer
Yellow color machine for Indonesia customer

Refractory gunning machine
is specifically designed for refractory dry-mix shotcrete applications, it is used for
hot repairs in steel and metallurgical plants, refractory castable, cement kilns, aluminium furnace work, refinery.