Plate and frame filter press for sale
2020-07-09 18:27:00
Gaode Equipment Co., Ltd Plate and frame filter press is industrial production to achieve a solid, a liquid separation device, used in chemical, ceramics, petroleum, pharmaceutical, food, metallurgical and other industries. Also suitable for industrial wastewater treatment filter; hydraulic as mechanical, electrical, hydraulic integrated. Using hydraulic equipment pinched, manual mechanical locking packing. Easy operation and maintenance, safe and reliable operation. Frame filter works: for separating solids and liquids.
Filter cake after filtration has a higher solid content and excellent separation. The basic principles of solid-liquid separation is: a mixture through a filter medium (cloth), a solid stay in the cloth, and gradually formed the bulk cloth filter cake. The filtrate is partially penetrate the filter cloth, become solids-free supernatant.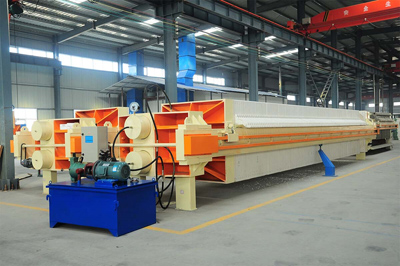 Plate and frame filter press can be divided into plate and frame type and recessed plate and are used for soild-liquid separation of various suspending liquid in intermittent pressure filtration. Plate and frame filter press are pressed by pressing devices and suspending liquid is pumped into the filter chamber. Solid part and liquid are separated through filter cloth. The products are simply in structure but good in separating effects, convenient in use.
The plate and frame filter press is the first generation filter press, and the current chamber filter press is developed from the plate and frame filter press. But the we still use the plate and frame filter press in some industry. The plate and frame filter press is features of easy operation , stable performance, but the cakes are discharged manually. So it suitable for the filter press which filtering area is not too big and have no too much plates.
Plate and frame filter press a
pplication:
The plate and frame filter press is used in chemical, petroleum, pharmaceutical, light industry, food, mineral processing, water treatment, electroplating, metallurgy, dyes, textile, industries etc.
1. The main material of frame is carbon steel: Q235,durable and long use life.
2. Descaling process, using sand blasting processing, more thorough cleaning.
3. Professional paint in paint room, durable and anti- corrosion.
4. Filter plates do not contain other filler. not recycled material, high strength, light weight, corrosion resistance, acid and alkali, non-toxic and tasteless.
5. Various kinds of filter cloth which suit for different kinds of material, improving the filtering accuracy.


Plate and frame filter press c
ompared with the ordinary chamber filter press, the plate and frame filter press can use the filter paper for more fine filtration, which let plate and frame filter press more popular in some special work. For more details, please contact us freely: info@gaodetec.com