Mortar pump operation and matters needing attention
2017-08-03 11:06:53
Gaode Equipment Co., Ltd. as a leading supplier of mortar pump, over the years the company focus on improvement of their products and international exchanges, make our products always in the leading domestic, and international synchronized design and manufacturing level.
GMP50/40 mortar pump is a kind of single cylinder ball valve piston pump. The delivery pipe, the piston and cylinder with special design, can be applied to a well mortar (water, cement, sand mixture) high pressure grouting and spraying.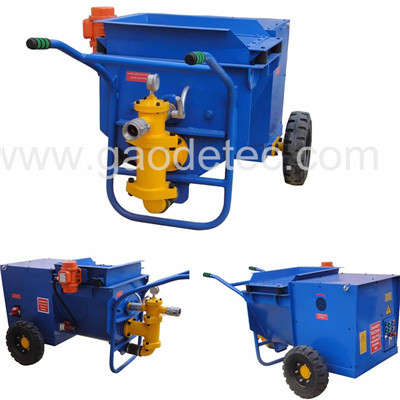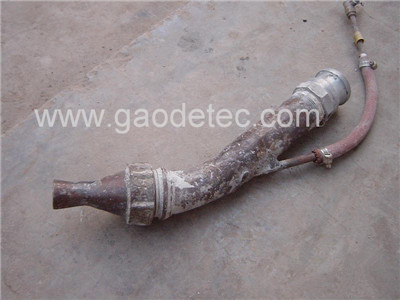 Let me introduce Gaodetec GMP50/40 mortar pump operation and matters needing attention:
1. Shall not make water, slurry into the motor and electric control components, otherwise it will cause a short-circuit.
2. GMP50/40 mortar spaying machine at work can't repair, adjust and refueling.
3. Pay attention to the pump and motor is operating normally, there are exceptions should immediately stop, open the discharge valve to troubleshoot again first.
4. Often should observe the pump slurry pressure gauge readings, if more than the setting pressure without the power outage, should immediately stop, troubleshoot and start.
5. If the mortar pump slurry obstruction, should immediately open the discharge valve discharge pressure, remove pump head to pay attention to safety.
6. Slurry pipe mortar is best run continuously, try to avoid. For stopping, intermittent time should follow the following instructions: every time for lime mortar, should not exceed 30 minutes; For or ready-mixed mortar, mixed mortar should not exceed 20 minutes; For on-site mixing cement mortar, should not exceed 10 minutes. If more than the above time, should be every 4 ~ 5 minutes to start the pump, to slow the mortar precipitation, avoid congestion. If you want to rest for a long time, should open the discharge valve discharge pressure, and cleaning.
7. Special note: in the event of a blockage or stressful situation, can't loosen the conveying pipe directly, must after pressure relief to loosen.
8. The operator in the process of loose coupling, can't let joint is to himself and others.
The above is my company GMP50/40 mortar pump operation and matters needing attention of simple introduction, hope to help you. If you have various needs of our products, welcome to contact us (Email address:info@gaodetec.com), we will with first-class service, to meet your needs!