Menghua Railway Hanjiang Bridge will take over soon
2018-05-16 16:25:07
The Menghua Railway is the longest coal transportation line in China—the Mengxi to Huazhong Coal Transport Railway. It starts from Inner Mongolia's Haole News Railway Station in the north and ends in Ji'an City, Jiangxi Province. It has a total length of 1837 kilometers and a planning and design transmission capacity of 200 million Tons/year. The Han River Bridge on the Menghua Railway is located on the Han River, about 3 kilometers upstream of the city of Xiangyang, Hubei Province. It has a total length of 5,242 meters and is one of the key control projects of the Menghua Railway. There are a total of 18 bridge piers on the bridge surface, and the main bridge on the river surface is a two-tower and five-span part cable-stayed bridge with a maximum span of 248 meters. After three years of construction, the main span of the Han River Bridge constructed by the China Railway No. 11 Bureau Group will take over soon.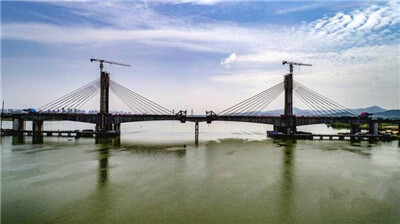 The prestressed equipment is important equipment for the construction of the Han River Bridge on the Menghua Railway. The prestressed tensioning equipment is mainly used for hydraulic jacks used for tensioning and the tensioning hydraulic oil pumps used for tensioning. The tensile strength of steel strands or reinforcing bars in anchors is increased by working tension to give prestressed value.
We have a series of prestressed tensioning equipment, including anchors, steel strands, tension hydraulic jacks, and tensioning hydraulic oil pumps.
Anchorage refers to the permanent anchoring device used in prestressed concrete, which is the anchoring tool in the post-tensioned structure or member to maintain the tension of the prestressed tendon and transfer it to the interior of the concrete. It also called prestressed anchors.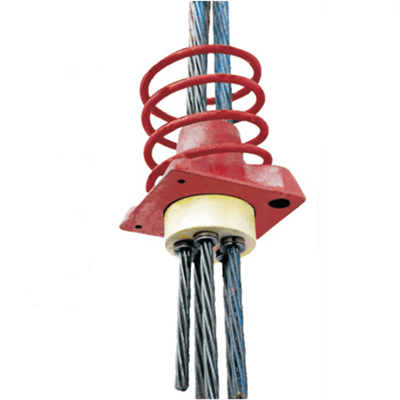 The steel strand is a steel product consisting of a plurality of steel wires stranded, and the surface of the carbon steel may be increased by a galvanized layer, a zinc-aluminum alloy layer, an aluminum clad layer, a copper plating layer, an epoxy coated, etc. as required.
Tension hydraulic jacks are special jacks used to tension prestressed tendons such as steel hinges. Tensioning hydraulic jacks must be used in conjunction with tensioning hydraulic pumps. Tensioning and returning to the top are powered by the high pressure oil of the tensioning hydraulic pump. According to the different structure, it is divided into front hydraulic jacks and piercing hydraulic jacks.
Tension hydraulic oil pump
is special equipment for pretensioning the tension jack when it is used for prestressing. It is composed of the lower pump body, control valve, electric motor, oil pump box and piping.