Mechanical compression filter press cast iron filter press filter equipment manufacturer direct sales
2020-01-25 10:51:28
Mechanical compression filter press cast iron filter press filter equipment manufacturer direct sales

Mechanical press filter press product introduction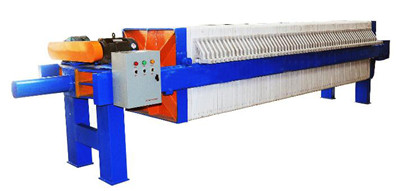 When the mechanical press is pressed, the reducer is driven by the motor, and the press plate is pushed by the transmission part to press the filter plate. The design of the compression screw and the fixing nut has a reliable self-locking screw Angle, which can ensure the reliability and stability of the compression. Realize automatic control with motor comprehensive protector. The motor can be overheat and overload protection.
Product introduction of cast iron filter press
The filter press is pulled out at one time, driven by a lengthened oil cylinder, and connected with a lengthened frame by a stainless steel chain (or slide) to connect each filter plate. Under the driving of the compression plate, all the filter plates can be opened at one time. With the automatic vibrating device, the equidistant filter plate can realize the function of vibrating auxiliary unloading, which can realize the automatic unloading. Advantages: fast drawing speed, automatic auxiliary unloading, compact structure, saving labor, high degree of automation.Insufficient: the number of filter plate is not recommended too much, less than 30 pieces, the scope of use is targeted.
The press adopts screw jack as the press device, which has the characteristics of simple structure, convenient operation, no power supply, economic and practical, and is generally used for the filter press with the filter area of 1-40m2.
Hydraulic automatic pressing plate and frame filter press: the electric contact pressure gauge is adopted to realize automatic pressure keeping, which is easy to operate, stable in operation and reliable in structure. With box pressure filter plate and frame filter press machine, plate and frame filter press is made up of a filter plate and a filter box, can withstand the filtering pressure is low (usually less than 0.6 Mpa) for each filter press according to the size of the area, and the different number plate and frame, plate and frame filter press is commonly used in filter material containing granular object less material, used in the filtration of fine products, can be in the back of the filter cloth and filter paper filter. Application industry: chemical industry, fine chemical industry, food, pharmaceutical intermediates, pharmaceutical industry. All steel cutting: automatic semi-automatic cutting machine, plate cutting machine, bending machine, drum machine; Completely eliminate backward manual cutting.