Double piston mortar pump for industry application
2022-07-04 15:13:54
The double piston mortar pump is a specialty of Gaodetec Equipment. We offer a service that guarantees our customers get the best deal on machinery sales, buy high-quality equipment for the best price, and save money on hiring. For both customer service and making sure that our customers receive the best bargain possible.


During drilling, a
double piston mortar pump
is a device that pumps water or mud into the borehole as a flushing fluid. An essential piece of drilling equipment in a business is the mortar pump. Depending on their intended use, mortar pumps can be classified as single-acting or double-piston mortar pumps. To cool the drill bit, remove the cuttings, and convey them to the surface, the surface cleansing medium—water, mud, or polymer flushing fluid—is supplied under pressure to the bottom of the drill bit through high-pressure hoses, taps, and the center hole of the drill pipe column. The most popular type of mortar pump is a piston or plunger model. It is powered by an electric motor that rotates the crankshaft through a crosshead before driving the piston or plunger to make reciprocating motions in the pump cylinder. The goal of pressure feeding and flushing fluid circulation is achieved by the alternating action of the suction and discharge valves.


Take the mode of double piston mortar pump for example, the double piston mortar pump can handle aggregates with a maximum particle size of 5 mm while assuring excellent efficiency, low maintenance costs, and little energy usage. Because of the double piston plaster pump's innovative design inspiration, it has two pistons. The regular and continuous spray pattern is guaranteed by the double piston plaster machine. With a twin-piston, it can spray an average of more than 1500m2 every day at a thickness of 2cm.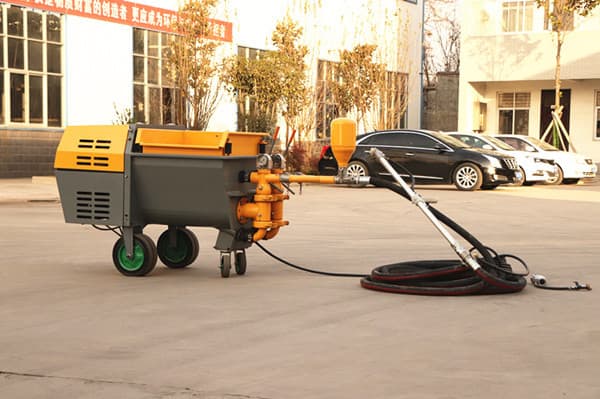 The feature of the
double piston mortar pump for sale
:
1. Ball valve, rapid clamp connection, operation, and cleaning conveniently; double cylinder and double-acting. Reciprocating paddles in the hopper prevent hopper material deposition.
2. Piston mortar pump's screen uses a rubber spring with a cone bolt connection for easy dismantling.;
3. A double piston mortar pump with two specific mortar nozzles makes spraying more fluidly, constantly, and efficiently reduces rebound.
4. This mortar pump machine can be moved by 1-2 people because it is lightweight.
5. Operating a piston pump is safer thanks to an independent electric control box and remote control system.
6. A water-resistant vibrator is included with a double piston plaster pump.
7. Rubber pistons have a long working life and require little maintenance after installation.

The large volume,
double piston mortar pump for industry application
is perfect for pumping, transporting, injecting, and spraying regular, pre-mixed, and specialty mortars. The double piston mortar pump can be used for painting walls, ceilings, roads, highways, etc.
Equipment has extremely high standards. Our main concern is making sure that our clients can purchase and hire effective, functional, and well-maintained equipment. We also make sure that consumers can sell their old equipment for the highest possible price. Our main focus is on making sure that our customers receive the finest deal possible and continue to do business with us. If you are interested in our
double piston mortar pumps for industry application
, please contact us. Email address: info@gaodetec.com