Colloidal Grout Mixing Plant for Sale
2019-07-16 16:44:37
Gaodetec Colloidal Grout Mixing Plant is designed for building high capacity colloidal grout mixing plant that could provide the quality and quantity of grout needed to keep soil mixing operation running at maximum production.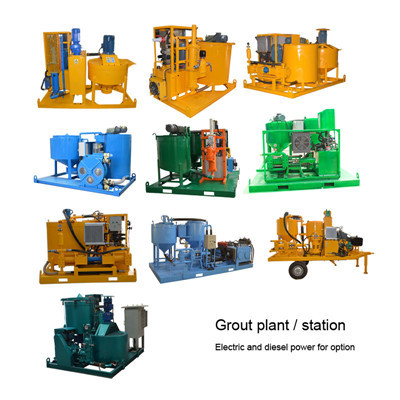 Colloidal Grout Mixing Plant for Rapid Transit Ground Support Project:
The fast transport line is a $1.43 billion project with a length of 11 kilometers and an elevated, ground and underground section of seven stations. The contractor carried out a deep soil cement mix to stabilize the soft soil along a part of the route.
Grout Mixing Plant is required which can be connected to the soil mixing device and seamlessly mixed therewith. Due to the length of the route being treated, the grout mixing equipment needs to be easily transported to move with the soil mixing equipment and requires a small footprint due to the narrow corridor. The Grout Mixing Plant needs to produce high flow and uniform grout as needed. And Colloidal Grout Mixing Plant delivered high quality grout on demand which allowed us to maintain a very aggressive construction schedule.
The Gaodetec Grout Mixing Plant provides conceptual design and the creation of custom high shear colloidal mixing grouting equipment, including the manufacture of skid grouting systems. The plant was built off-site and delivered to the site in an easy-to-set modular design. The Gaodetec grouting plant unit is an extremely precise grouting system that produces high quality on-demand grouting. Other features of the batch equipment include its self-cleaning feature for low maintenance and low downtime, combined with remote applications, allowing seamless grouting flow control on soil mixing equipment.
Our project requires a lot of high quality grout, we need a compact, easy to install and move and low maintenance grouting equipment. Gaodetec designed a factory that included features that we didn't think of before, but the results were very useful, including remote controls and self-cleaning features. The plant consistently produces high quality grouting mixes with complete specifications and no waste, with less operator intervention than other similar plants in our fleet. The plant is highly mobile; it can be relocated and re-run with a crew of 4 people moving in one day.
Contact Gaodetec for quotes and info: info@gaodetec.com, Colloidal Grout Mixing Plant for Sale with best price!