Cement grouting machine price
2019-09-12 09:33:11
Where can I get a competitive cement grouting machine price?
Gaodetec Equipment is the top brand of cement grouting machine in China.


The electric motor drives the high-speed turbo pump. The slurry is vortex-likely sucked from the bottom, and is sprayed from the upper end of the barrel to generate a high-speed liquid flow, and 1. Strong eddy current is formed in the barrel, so that the high speed cement grout mixer dry powder and the water are sufficiently uniformly stirred, thereby preparing the low-water-pyrene ratio slurry. the goal of.
Depending on the engine, there are electric cement grout mixers and diesel-driven colloid cement grout mixers.


And depending on the cement grouting mixer machine capacity difference, there are many types to choose.

Different types of cement grouting machines have different prices.


Cement grout machine is used for grouting construction, specializing in mixing slurry; colloid grouting mixer has wide application in engineering departments such as water conservancy and electric power, coal, railway, transportation, construction and mining.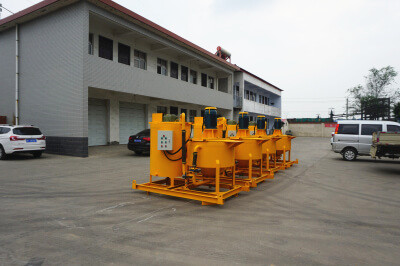 The cement grouting machine can quickly mix water, cement, bentonite, sand and other additives.

Do you want the price of a cement grouting machine? Tell us now!

1. What kind of colloidal grout mixer do you want, 300L, 500L, 700L or more?

2. Do you need a blender to store the mixed slurry?

3. Do you want a colloidal grout mixer with a diesel engine or an electric motor?

If you want a motor, what is the voltage at the work site, 3phase, 380v, 50HZ?


Based on your engine and capacity requirements, we will provide you with the right model and the best price.

Gaodetec Equipment has its own technical team with research and development capabilities to design cement grouting machine to suit your needs, as well as custom colors. Contact us now to get the right cement grouting machine, you like the color!



We have design and export cement grout mixer globally. We put a lot of emphasis on innovation to ensure that we remain at the forefront of the market and to continue to deliver our valued customers with the best products possible. Gaodetec Equipment has been producing grout pumps, cement grouting machines, grout mixers and many other mining and civil related products for the global market for over 9 years. Focus, professional in cement grouting machine is supply full series of grout mixer and agitator, grout pump, and cement injection grouting plant. Electric power and diesel engine for clients choose. For more details about cement grout machine price, please email us: info@gaodetec.com.