Which question during trailer concrete mixer with pump? How to deal it?
2017-06-09
Trailer concrete mixer and pump is very widely used for construction project, but the concrete pump is used for too long, especially, if you don't maintain it, the concrete pump with mixer is very easily broken down. Statistics indicate that electric concrete pump with mixer or diesel concrete pump with mixer is working, the following question is comment. Although the question is very small, if you don't deal it, if the time is too long, it will influence your project schedule.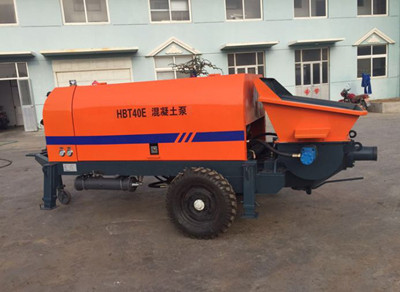 Question 1: the rotate speed of generator is going down.
Firstly, you should test the output power of engine, if the output power of engine is lower than rated power, it maybe the quality of fuel oil is not good, fuel oil pressure is too low, brake and handle are broken and the dust is too thickness on the turbo booster. If the output power of engine is normal, it need to check if the flow rate of hydraulic pump is not matched with the output power of engine. Like the similar question, you should check it from electrical system firstly, and then check hydraulic system, finally check mechanical transmission system.
Question 2: working speed is becoming slow.
The mainly reason of trailer concrete pump is becoming slow is that the parts of whole machine wear course the power of engine is going down and hydraulic system is inner leaking. The hydraulic pump of trailer concrete pump is plunger variable pump, when the concrete pump is working for some time, hydraulic unit in the pump must be wear, which will course inner leaking, some datas are not matched with each other, which course less flow but oil temperature is too hot, working speed will be becoming slow. At this time, some weared spare parts need to be changed.
Question 3: solenoid valve is not working.
When controlling solenoid valve, it can't be opened by hand or by automatic. Changing coil of solenoid valve or pilot valve or operate button, if it can't be opened by hand, when the upper outlet is discharge, changing solenoid valve; when lower outlet is discharge, checking the inner of air cylinder, sealing ring, piston rod, screw or nut, if they are leaking.
The normal maintain of trailer concrete pump is in order to prevent broken, so you should maintain the concrete pump regularly. And, maintain also need to obey correct maintain rules.