Small fine stone concrete pump features application
2018-05-11
The traditional construction mortar pump can not transport fine stone concrete. To solve this problem, our engineers and technicians have accumulated many years of experience in the development of small concrete pump. We have designed and manufactured small s pipe-valve concrete pumps for the purpose of concrete construction and successfully solved them. The problem of conveying fine stone concrete during construction. The equipment uses a number of leading technologies for concrete pumps and is recognized by foreign customers. It is also the first domestic fine stone concrete conveying equipment. In the construction of fine stone concrete or mortar backfill layer in construction projects, fine concrete pump is used to greatly increase the engineering efficiency and reduce the labor intensity of workers. In recent years, fine stone concrete pump application have also been increasingly used in the transportation of high-rise building walls and floors with fine stone concrete or mortar.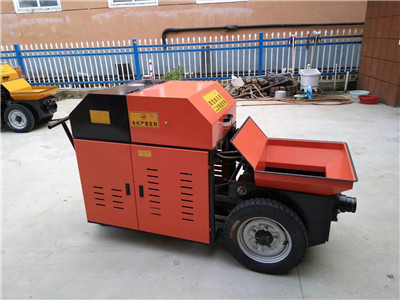 Concrete pump feature reference:
1. With a walking wheel, mobile and positioning are convenient and flexible.
2. It is fixed and reliable by four legs when working.
3. The electric control box is equipped with a remote control handle, all the operating functions can be remotely controlled to pump the material, so that the product is more humane.
4. The use of advanced smooth S-tube valve commutation can meet the concrete transportation, and it is not easy to block the pipe.
5. The eyeglass plate and cutting ring are made of high-hardness alloy and have a longer life.
6. High export pressure can meet the transportation requirements of high-rise buildings and long-distance construction.
7. High wear-resistant concrete cylinders ensure and increase the service life of the pump and reduce the user's maintenance costs.