What are the grouting methods that everyone cares about?
2018-12-26
As for the grouting method and way, following for reference:
Grouting pump material: cement grouting, chemical grouting, mixed cement and chemical grouting
Grouting object: rock grouting, gravel grouting, clay grouting, coal body grouting, coal rock mass grouting
Function: anti-seepage grouting, reinforced grouting, foundation underpinning grouting, water blocking, reinforced grouting, sealed filling grouting
Grouting mechanism: filling grouting, splitting and vein grouting, bedrock crack grouting, infiltration grouting, interface grouting, concrete crack grouting, and compact grouting
Grouting pressure: static pressure grouting, high pressure jet grouting.


There are many types of cement grouting pumps: hose type grout pump, piston grout pump, plunger grout pump, screw grout pump.
Could be widely used in tunnels grouting, blocking water in mine mining face; grouting and sealing water in rock roadway and concrete shaft wall; tunnel crack, broken rock mass, reinforcement of scattered rock; anchoring; backfill grouting and prevent surface subsidence, prevent landslides, correct grouting of building deflections, etc.
As for the grouting liquid, only one liquid is single liquid goruting. If two liquids are using at the same time. It measn double liquid grouting method.
When using the two-liquid grouting pump to doing the grout job, different methods could be used according to the grouting job and grouting working site:
1.Continuous grouting method
Continuous grouting method means doing the grouting job from the beginning to the end. Continuously grouting until the grouting purpose is reached.
This grouting method is suitable for the case where the grouting layer or the cracking gap is fine, the water absorption of the borehole is small, and the amount of pulp is not large.
https://www.leadcrete.com/grout-pump-mixer/
2.Intermittent grouting method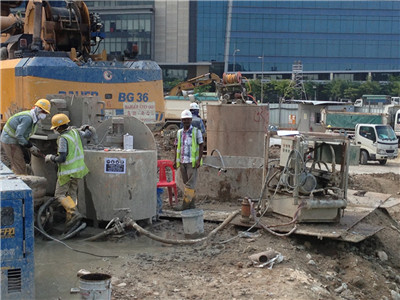 When the grouting passage is large, and the drilling unit consumes a large amount of grouting liquid, the intermittent grouting method can be adopted.
The length of the grouting time depends on the time required for the slurry to reach the initial setting, and the intermittent number depends on the rising speed of the orifice pressure.