Squeeze type concrete pump for sale
2017-09-18 11:36:10
Squeeze type concrete pump is used to convey ready concrete through a pipeline. It is widely used in pumping mortar, fine stone concrete, normal concrete, high performance concrete in small, medium and large construction projects such as building, tunnel, bridge, high way, hydropower, mining and national defense etc. The advantage of a hose type concrete pump is that the pipeline can be long so that the actual pump can be very far away from where the concrete is being placed. Of course, Improper use of concrete pump is very dangerous.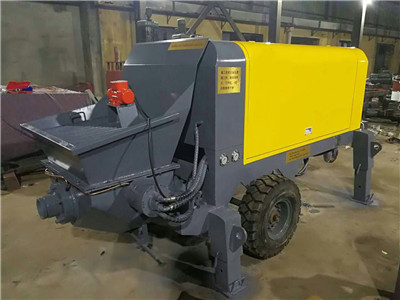 In the use of hose concrete pump construction, the operator should pay special attention to the safety issues on the heart. Perhaps a casual mistake in the operation, may cause great harm. For the construction schedule and the construction of the personal safety may bring great harm.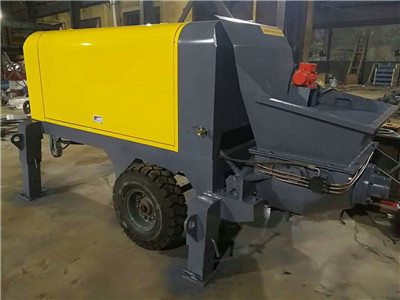 In the usual homework, the wrong operation may bring what danger, give you universal about.
Commodity concrete, hydraulic oil splash caused by eye injuries.
Advance prevention method:
On the hopper in the use of the process, fighting and the surrounding is strictly prohibited station people. Check the equipment, it is strictly prohibited to use the eye to see the mouth.
The damage caused by the disassembly of the pipe in the concrete pipe.
Advance precautions:
Before removing the pipe joint, loosen the pipe joint bolts and gently shake the tube to relieve pressure.
Due to lifting or center of gravity caused by the collapse of the pump caused by injury.
Advance precautions:
Stirring pump must be firmly fixed in the car when moving; vehicle forced mixing pump with five tanks to adjust the center of gravity, stirring system can be moved before and after the traffic center of gravity is relatively safe.
The piping is not fixed to cause the pipe to slip or fall off.
Advance precautions:
The tube must be fastened to ensure that the joints sealed tightly, do not leak pulp, such as long-term use of pipe wear and tear, in the larger pressure all the exchange of new tube.
When the pump is working, the body part gets into the hopper.
Precautions:
Workers are prohibited pedaling hopper, so as not to fall due to the vibration of the machine or feet caught by the screen.
Damage to the inside and outside of the cable caused by the pump charged, causing electric shock.
Precautions:
Found that the electrical components of the connector or wire is damaged, must be replaced in time.