Hydraulic hydroseeder machine refers to liquid principle
2019-02-07 10:23:47
The hydraulic hydroseeder machine refers to the use of the liquid principle to mix the germinated seeds into a container containing a certain proportion of water, fiber covering, binder and fertilizer, and use the centrifugal pump to transport the mixture through the hydraulic spray planting machine. A uniform coating is formed on the soil to be planted.



The inner covering material includes pulp, wood pulp, straw, grass charcoal, etc., which wrap the seeds to prevent the seeds from being exposed to the surface damage, and provide the water and nutrients absorbed by the seeds to the seeds to germinate and emerge.
The anti-soil etchant is mostly used as a powder (in the past, an emulsion such as emulsified asphalt and synthetic resin), and the film-forming substance of the anti-soil etchant is a long fat chain surfactant, which is soluble in water and seeds, fertilizer, and inner covering material. When the material is sprayed on the surface of the soil, it is bonded to the soil particles to form an organic colloid. The film is tightly covered on the surface of the clay mineral, and the seed is firmly adhered to the soil surface by physical adsorption and chemical bonding.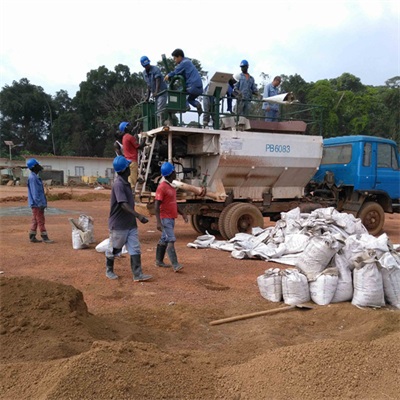 This is the key to the ability of the hydraulic spray plant to stabilize the seed on the slope. The outer covering material is mostly made of polypropylene filament non-woven fabric. The material is light (10-18g/m2), the width is more than 2m, the handling is convenient, the covering speed is fast, it has strong corrosion resistance, and the cost is low. Cover it with it to effectively prevent wind erosion and water erosion.