High capacity filter press for sale
2020-10-02 14:08:31
High capacity filter press for sale

Filter presses can be divided into plate and frame type and recessed plate and are used for soild-liquid separation of various suspending liquid in intermittent pressure filtration. High capacity filter press are pressed by pressing devices and suspending liquid is pumped into the filter chamber. Solid part and liquid are separated through filter cloth. The products are simply in structure but good in separating effects, convenient in use.

When the mixed liquid flows through the filter cloth, the solid will be trapped on the filter cloth and accumulated to form into the cake. The clean liquid, which has not included the solid, will permeate from the filter cloth.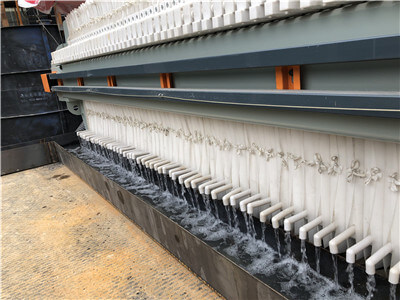 General speaking, more quantity of filter plate, the capacity of filter press will be large. However, when compared with normal chamber filter press and membrane filter press. You will find that, at the same size and quantity of filter plate, a membrane filter press chamber volume will be smaller than a chamber filter press. That is because the membrane filter press plate is mixing with chamber filter plate and membrane plate, but membrane filter plate can't be loaded with materials. Although a chamber plate in a membrane filter press will be thicker than a normal plate, when in a same condition, the capacity of a membrane filter plate still smaller than a chamber one. So if you don't have require about the moisture, you can choose a chamber filter press instead of a membrane one, it can give you a bigger chamber volume filter press with a lower cost.
In order to meet different filtration needs of customers, we have been constantly developing and improving our product technology, quality, process automation and after-sales services. Our unremitting efforts for years have bought us great trust from customers and our products enjoy fast sales abroad. If you have any needs about filter press, please let us know, we are high capacity filter press supplier. Email: info@gaodetec.com