Gaodetec Grout Mixer Pump Used in Indonesia
2017-12-23 07:54:51
Gaodetec grout mixer pump is used in Indonesia for grouting projects. The grout mixer pump is a combination of grout mixer, agitator and grout pump in one station.
Usually the grout mixer pump was widely used in highway, railway, hydropower, construction, mining and other ground or underground projects.
High shear high speed vortex mixer ensures mixing quickly and evenly. Water, cement and other media are quickly mixed into a homogeneous slurry. Then the mixed slurry was delivered to the agitator. Grout pump injects from the agitator, this ensures a continuous mixing and grouting operation.
In order to ensure the grout mixer pump was used widely, we design the grout pump in hydraulic system, pressure and output also could be adjustable stepless.
The max. advantage of the grout mixer pump is its compact size, takes up a very small space, suitable for narrow work space.
GGP300/300/75PI-E high pressure grout mixer pump work in Indonesia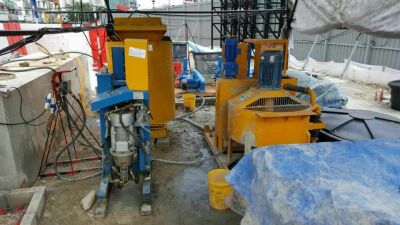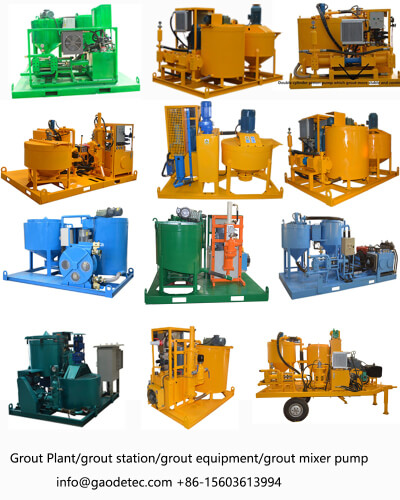 Would you like order one suitable grout mixer pump for your grouting projects?
Now Gaodetec has tens types grout mixer pump for option, please check http://www.gaodetec.com/grout-pump-and-mixer/ for more information. In order to help you choose one suitable type grout mixer pump, please help us to confirm the following points first:
Where or what project will you use the grout mixer pump for, dam grouting, tunnel grouting or other?
What's the W/C ratio, bigger than 0.45:1?
What's the output and pressure do you need?
Regards the engine, would you like electric motor or diesel engine?
If like electric motor, what's the voltage at work site, 3 phase, 380v, 50HZ or other?
Tell us your detailed demands to +86-15903613994 or email to
info@gaodetec.com
, suitable type and the best price will be offered to you. Please believe Gaodetec is the trust grout mixer manufacturer in China.