Gaodetec Grout Mixer Pump for Dam Tunnel Grouting
2017-06-26 11:21:29
Gaodetec is one professional and leading grouting mixer pump manufacturer in China. Gaodetec grout mixer pump is combination of grout mixer, agitator and grout pump in one plant. It is mainly used for dam tunnel grouting projects.


Gaodetec grout mixer pump includes diesel engine driven grout mixer pump and electric motor drive grout mixer pump. For electric motor driven grout mixer pump, if the voltage not is 3 phase, 380v, 50HZ also please don't worry.
Gaodetec could customize suitable electric motor with your demands voltage for you. There are clients who comes from Qatar, Kuwait, UAE, Jordan, Egypt etc. middle-east countries and Malaysia, Singapore, Indonesia, Philippines, Thailand., Laos, Vietnam etc. countries and Zambia. Kenya, South Africa etc. Africa countries choose Gaodetec grout mixer pump for their hydropower tunnel etc. projects.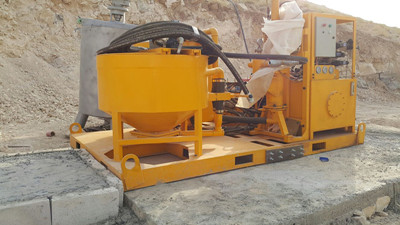 If interested, in order to offer one suitable grout mixer pump for you, please help us confirm the following points:
1. What's kind of grouting will you use the grout mixer pump do, for water-blockoff curtain grouting or grouting injection reinforcement or what's project will you use the grout mixer pump for. Such as dam grouting, tunnel grouting etc.?
2. What's the pressure and flow do you demands, 100 bar, 100L/min?
3. Would you like electric motor or diesel engine drive? If electric motor drive, what's the voltage at the worksite, 3 phase, 380v, 50HZ is ok?


Where to find one
good grout mixer pump factory
in China, send email to
info@gaodetec.com
or call or send message through whatsapp viber wechat etc. to +86-15903613994, More suitable type and the best price will be offered to you.